Tinubu Visits Emir Of Ilorin, Ibrahim Sulu Gambari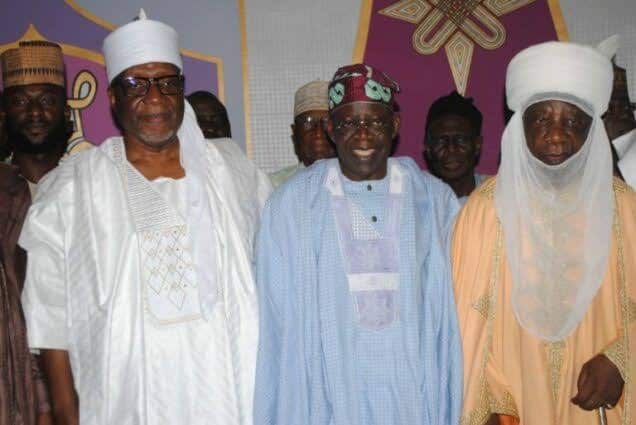 The presidential candidate of the All Progressives Congress (APC), Bola Ahmed Tinubu, has paid a courtesy call to the Emir of Ilorin, Alhaji Ibrahim Sulu Gambari, in his palace.
Tinubu and members of the party's National Working Committee (NWC) paid homage to the monarch on Tuesday, after attending the APC Presidential campaign rally held at the Metropolitan Square in Ilorin, the state capital.
The monarch, who acknowledged the sterling qualities of Tinubu and the state Governor, Abdulrahman Abdulrazaq, described them as great and humble achievers.
Gambari also prayed for the success of the presidential candidate at the February 25 election.
Earlier while speaking at the rally, Tinubu thanked the people for their commitment and urged them to continue to enjoy the freedom and progress that the AbdulRasaq Administration has brought to Kwara.
He said: "Are you going to be committed to the freedom that you have been enjoying under Governor Abdulrazaq? Are you going to cement that freedom? Do you have your PVCs?" he asked the crowd, who answered with a thunderous "Yes."
Noting their commitment to the governor's re-election bid, Tinubu said: "On February 25, we will need you to come out. You don't vote for anybody else; you vote for me, you vote for the APC. Vote APC across all levels – presidential, National Assembly, governorship and state House of Assembly elections."
Also speaking, Abdulrasaq was described by Tinubu as an honest and hardworking governor, and thanked the people for the massive turnout.
He urged the people of the state not to allow those who stole your future, who could not pay your salaries and pensions to return to power."
The governor said: "This huge crowd is a testament to our standing with the people of Kwara State. 
"It shows that we have won this election. Our presidential candidate has seen what we have done in this state.
"Kwara is APC. Kwara indeed is one of the strongholds of the APC. Our members are happy. The state is happy. They have seen what we have done. 
"We met a failed state in several sectors, and we have been able to tackle it in education, healthcare, and other sectors. All the indices have gone up in the right sense."
He added: "You need to continue to support this party at all levels. President Muhammadu Buhari has done well. We need to build on his success. 
"No person could have done what he has done, despite the economic downturn, Covid-19 pandemic, and global economic crisis. 
"We must sustain this growth consistently. That will be continued by our incoming team, led by Asiwaju Bola Ahmed Tinubu.
"Party faithful, I urge you to support and vote for Asiwaju Bola Ahmed Tinubu. 
"The progress we have in this state will be continued with Asiwaju Bola Ahmed Tinubu. We thank him for the support he gave us in 2019. He gave us full support in throwing out the termites in this state."
The governor also thanked President Muhammadu Buhari, who is away in Mauritania.
He said voters should re-elect him so that the party of dubious characters will not come back into this state.