Pandemonium As Soldier, Policeman Clash In Lagos [Video]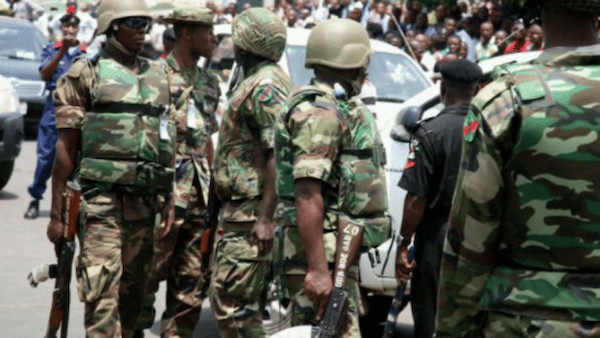 A soldier clashed with a policeman in Ijaya, Apongbo area of Lagos, causing tension in the community.
In a viral video, a military officer can be seen trying to disarm one of the police officers who resisted the disarmament with light punches.
The policemen attached to the Lagos State Mobile Taskforce subsequently freed themselves after spraying teargas to disperse the soldiers.
Eyewitnesses can be heard urging for the scene to be recorded as evidence.
However, it is unclear what led to the confrontation between the two security agencies.
Two Kidnapped Osun Farmers Regain Freedom After Payment Of N6m Ransom
The Osun State State Police Command has confirmed the release of two farmers who were kidnapped last Wednesday along the Ede/Ileoogbo road in the Ayedire Local Government Area of the state.
Naija News reports that the spokesperson of Osun State Police Command, Yemisi Opalola had on Wednesday (today) confirmed the release.
It was gathered that the two farmers who were kidnapped a week ago while returning from the farm were released by their abductors after a payment of N6 million was made as ransom.
The abductors of the farmers identified as Samuel Oyedotun and Tobiloba Fashola were reported to have demanded for an initial ransom of N25 million.
The kidnappers later agreed to collect N6 million which was delivered to them in the border community between Kogi and Kwara State.
It was gathered that the three relatives, including the elder brother of Samuel and one of the kidnapped farmers identified as Sunday were detained after they delivered the ransom to the kidnapper and a fresh N24 million was demanded their release as well.
However, this platform understands that the two farmers and another relatives who went to deliver the ransom were freed.
A family source confirmed to The Nation on Wednesday morning that Samuel and Tobiloba with one of their relatives who went to deliver ransom in Kogi State have been released.