What Tinubu Discussed With APC Govship, National Assembly Candidates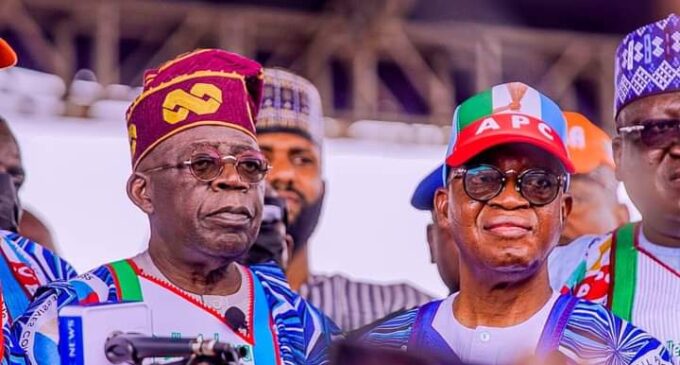 The Secretary of the All Progressives Congress (APC) Presidential Campaign Council (PCC), James Faleke, has revealed details of a meeting between the party's presidential candidate, Asiwaju Bola Ahmed Tinubu and Governorship and National Assembly Candidates of the party and members of the PCC and National Working Committee (NWC).
Naija News reports that the meeting between the APC presidential candidate and the various party stakeholders was held on Sunday in Abuja.
Speaking to newsmen, Faleke dismissed reports of a rift between Tinubu and governors elected on the party's platform.
He said: "From our interactions with the candidates, I can assure Nigerians that we are winning the coming elections.
"As for the challenges they relayed to us that they are facing in their states, it is an internal issue and we will handle them internally."
According to the PCC Secretary, the meeting was held to find out from the party's candidates what was happening at their various states, adding that there was nothing more than that.
The biggest take away from the meeting, according to Faleke, was the determination of the party's candidates and its members to work for its success in the coming elections.
He said Tinubu currently has a fantastic relationship with the party's governors across states, stressing that "nobody should listen to those lies. If they are bold enough, let them say it. They are the ones that have problems like the G-5, G-2, G-1."
"We are going to deal with the INEC list. We are not dealing with a party list this time around, we already have the INEC list in our custody.
"We have cases of somebody winning at the court of Appeal but the loser who appealed to Supreme Court wants us to stay active because of the appeal.
"But, we have told them that the law does not operate that way, we have made it clear to them that the law says that the man with substantive judgement is allowed," he said.
Naija News reports that those at the meeting include the National Chairman of the APC, Senator Abdullahi Adamu and Senate President, Ahmed Lawan, among others.