Soludo 'Pulls Down' Peter Obi's Bill Boards In Anambra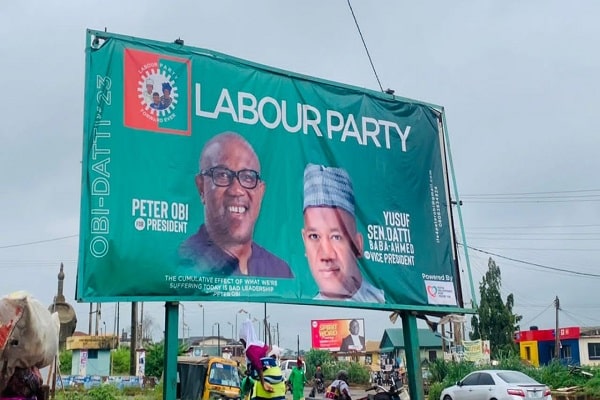 The Governor Charles Soludo-led Anambra State Government, through the Anambra Signage and Advertising Agency (ANSAA) has reportedly pulled down some of the billboards of Labour Party (LP) presidential candidate, Peter Obi.
ANSAA reportedly removed the bill boards at the weekend over the alleged inability of Peter Obi to pay the State Government.
Confirming the removal by its operatives, Managing Director ANSAA, Tony Ujubuonu, said one of the LP billboards was removed on Saturday but not on the orders of Soludo.
Ujubuonu said: "Whatever that was removed was as a result of a challenge we had with the agent that erected the board.
"First and foremost is that the bridge you are talking about was having a Labour Party billboard. If you recall in August, we sent out a message to all political parties to pay up their campaign fees.
"There was a lot of hullabaloo about it. None of them has paid their own. So most of the parties that have not paid theirs that have adverts on government assets were removed. It has nothing to do with the governor.
"Governor didn't give any order. If they said they paid, the campaign fees, let them give me any evidence, I should know, I'm the the ANSAA MD.
"They didn't pay the campaign fees and we spoke to their media heads several times; we informed them about the enforcement, and they haven't paid it so we decided to take down the advert.
"It has nothing to do with the Governor. Anybody that tells you anything about the Governor and the billboard is telling you lies."
He maintained that when the billboard was removed, government refunded the advertising agency that mounted the advert its money.
Ujubuonu stated that the agency don't deal directly with the Labour Party, stressing that they only deal with the advertising agency that mounted the board.
Soludo's Ulterior Motives
But a chieftain of the Labour Party, who does not want to be quoted, told The Nation that Governor Charles Soludo ordered the removal of the bill boards for ulterior motives.
According to him, Peter Obi and Umeh's large billboard at the Unizik temporary Site Flyover were pulled down on Saturday by ANSAA.
He said: "The billboard at UNIZIK Temporary Site Junction was today( Saturday ) removed on the orders of Soludo.
"The advert which was placed by an APCON registered Advertising Agency was fully paid for.
"Soludo said that he does not want Labour Party advert on such a strategic place and ordered the Anambra Signage Agency to refund the money it received for the advert.
"He also ordered the removal of the Labour Party advert at the Afor Nnobi Gantry. This advert has been there since October, 2022 and was paid for five months."