Full List Of South Africans On Big Brother Titans, Age, Relationship, Profession
Some South African 'giants' were unveiled on Sunday night to compete against their Nigerian fellows as the much anticipated remodelled version of the Big Brother Naija reality show, Big Brother Titans [BB Titans], finally commenced.
Recall that Multichoice Nigeria CEO, John Ugbe, had announced dates and highlights of the reality show earlier on December 15, 2022, during a press conference.
The organizers had promised that BB Titans, which will have Nigerian and South African 'giants' cohabitate for 72 days engaging in a series of activities, will be more intriguing than expected.
Meet BB Titan South African
The first BBTitan housemate to be unveiled on Sunday night was Khosi, Naija News reports. She is 25 years of age and a journalist from KwaZulu-Natal. According to Khosi during her unveiling, she is always misconstrued as a slay queen and would love to date a Nigerian man. "If you deserve fire, then fire shall come to you," Khosi said.
The second South African BBTitan housemate unveiled on Sunday night is Juicy Jay.
Juicy Jay is 24 years old. He is a Rugby player from the Eastern Cape. Jay pride himself of not just trying in playing, he said he also scores.
He described himself as a character and a troublemaker who has the energy to burn. Despite his charming smile, the Rugby player may not be bringing peace to the house.
The third South African BBTitan housemate unveiled tonight is Nelisa.
Little Nelisa has promised some big #BBTitans personality. She resides in Johannesburg, South Africa and according to her, if she is a drink, she'd be champagne.
Nelisa promised to be interesting to watch on the show.
The fourth South African BBTitan housemate unveiled on Sunday night was Mmeli.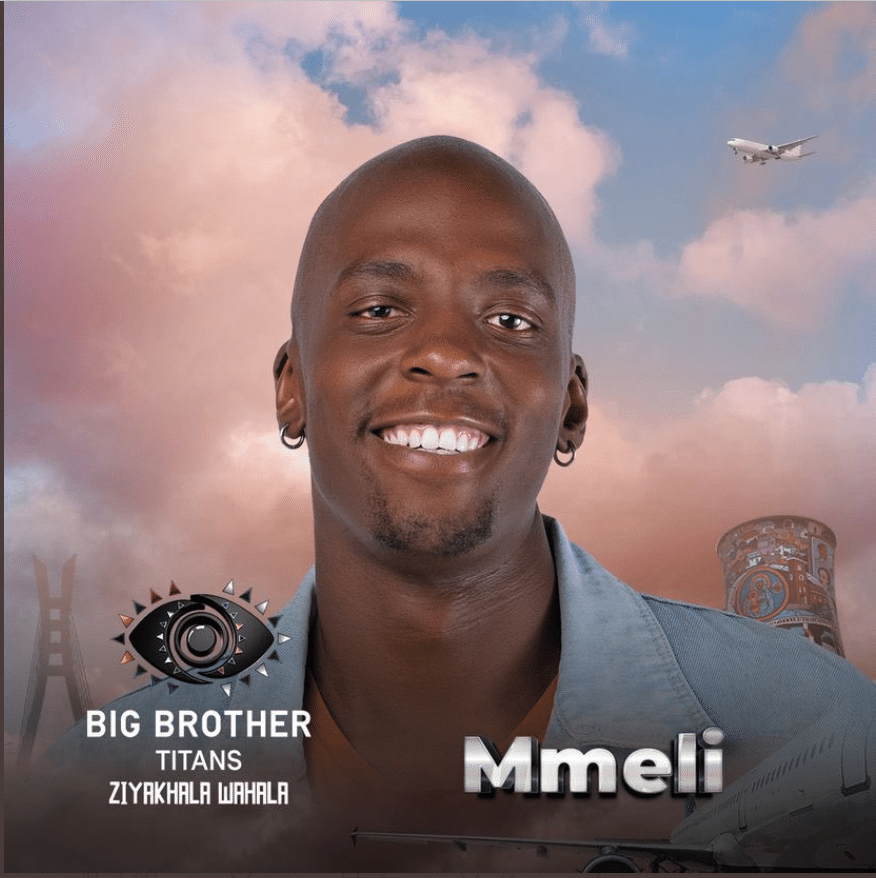 Mmeli said he is not holding back any street smarts from Hillbrow. The 25-year-old is based in Johannesburg, South Africa.
Mmeli is an RnB fan and after attempting to sing, says: "I am not a singer, bye bye."
The fifth South African BBTitan housemate unveiled on the show was Ipeleng.
Ipeleng is also 25 years of age and a Gauteng law student. According to the centurion-based housemate, she has a passion for broadcasting and presenting.
Ipeleng prides herself as an aspiring content creator who is up for a challenge.
The sixth South African BBTitan Housemate on tonight's list is Thabang.
Thabang is just 21 years of age and was born in Soweto. The young man promised that he brings his analytical skills to the house.
According to him, his mother suggested he enter Big Brother Titans. Thabang said he loves learning about other people's cultures. He used to play the violin and loves listening to amapiano.
The seventh BBTitan housemate from South Africa is Yaya.
Yaya is 31-year-old and she claimed to have brought her big, bold personality to the BB Titans house.
Yaya lives in East London in South Africa. She says she gives the best cuddles, and loves to cook and clean. Food is her love language.
The eighth BBTitan South African housemate unveiled on Sunday evening is Tsatsii
Tsatsii certainly does mind the little things, which might get interesting on the reality show. She is 24, and she hails from Pretoria. She said she had been a Big Brother fan. She's a nurturing peacemaker who doesn't like quarrels and describes herself as competitive, expressive, and confident.
The Ninth South African citizen on the BBTitan season is Lukay.
Lukay is a sales executive who hails from KwaZulu-Natal. Lukay is 31 years old and has promised to bring fun and laughter to the Big Brother Titans audience.
He believes a good ear and kind words can solve anything.
The Tenth South African BBTitans housemate unveiled today was Justin.
Justin is a content creator from the Eastern Cape. The 21-year-old will be spending plenty of time in front of the #BBTitans cameras.
The East Londoner entered Big Brother Titans because he's a fan of the show. According to him, he is easy to be around and he loves being around people.