Fuel Scarcity: Oil Marketers Predict Price Hike, Says Scarcity Might Linger Till June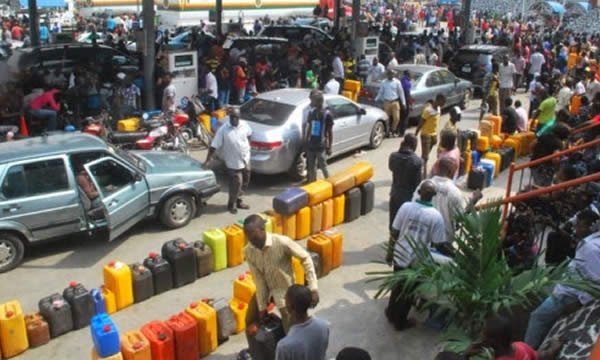 Oil marketers have on Wednesday predicted a hike in the price of Premium Motor Spirit (PMS), popularly called petrol, due to scarcity in supply of the product.
According to them, the scarcity might persist till June this year when the President Muhammadu Buhari administration would hand over power to whoever emerges winner of the 2023 general election.
Marketers explained that the scarcity might linger till June when there is a change of government because suppliers are cautious of products they supply at this period in other to avoid their monies being carried over to the next administration.
Naija News reports that the National Public Relations Officer of the Independent Petroleum Marketers Association of Nigeria (IPMAN), Chief Ukadike Chinedu, told Punch that fuel imports and subsidies were responsible for the sufferings of Nigerians.
He explained that "This issue of subsidy and the importation of petroleum products are the major reasons why we are suffering like this and having epileptic supply of PMS. This may drag till the current administration leaves in May or till June this year.
"The exchange rate is affecting fuel imports, which is also why the cost of petroleum products are high. We use too much naira to chase the few dollars that are available. So the solution is for us to refine our crude here and get our depots working.
"Also, we should note that most times when an administration is leaving, there is usually scarcity of products. It happened during the time of former President Goodluck Jonathan.
"This is because suppliers will be very weary of selling petroleum products so that their debts will not be carried over to the next administration. Successive governments have suffered this epileptic distribution of petroleum products during the transition to a new government.
"The government is winding up, and if you are a supplier you have to be careful in terms of supplying petroleum products. Remember that when Jonathan was there, marketers who were supplying products stopped and went on strike, demanding that they must be paid their arrears."
It was gathered that oil marketers' reactions followed the pronouncement made by the Minister of State for Petroleum Resources, Chief Timipre Sylva on Monday.
The minister said NNPC was selling petrol at a loss because of its mandate from the Federal Government as regards fuel subsidy.
He stated that "If you are a businessman, look at it from this perspective, that you are now in the business where you are mandated to sell at a loss to the public. That is not an easy job, I must tell you."
It would also be recalled that last week, the Minister of Finance, Budget and National Planning, Zainab Ahmed, said the federal government had budgeted about N3.6 trillion for fuel subsidy till June 2023.
However, this platform understands that the Chairman of IPMAN Satellite depot, Akin Akinrinade, told Punch that its members were yet to take delivery of any product from the state oil firm.
Akinrinade pointed out that "We have yet to see anything. They promised us something in December, but now they said January. All they've done is ask us to submit names and change from the old system-NNPC Express to NNPC Retail. Other than that, we are yet to receive any product.
"But I can assure you that this scarcity will continue well after June if NNPCL does not supply us products directly and at regulated price."
Naija News reported on Monday, December 26 2022 that NNPCL was said to have entered a special joint arrangement with 30,000-member independent petroleum marketers in Lagos, Calabar, Port Harcourt and Ogara.
It was gathered that the joint arrangement is a plan that would bring about the supply of fuel in large quantities by January 2023 to various parts of the country through the four locations mentioned and as well sell uniformly at a pump price of N180/litre.
The new development as learnt by this platform is a way the government and stakeholders in the fuel supply chain have adopted to end the lingering fuel scarcity in the country.
Despite this agreement, independent marketers are still complaining about how they are yet to receive any supply from NNPCL.
Akinrinade disclosed that the price of fuel had hit between N222/N225 at private depots as of last Friday because of a lack of supply from NNPCL which is the sole importer of the commodity.
Reacting to the development the President of the Petroleum Retail Outlet Owners Association of Nigeria, Billy Gillis-Harry, also complained about the availability of the product for marketers to distribute had remained an issue of concern.
He noted that "Let there be products to sell. That is what we are yearning for. Once that problem is sorted, then others shall be addressed too."
Meanwhile, a top member of the Major Oil Marketers Association of Nigeria (MOMAN) who pleaded anonymity told Punch that last Thursday that "The scarcity has eased and things have gone back to normal. No queues and our stations sell at normal regulated prices. However, some of our stations who don't have supplies will be supplied."
However, reacting to the issue, Naija News learnt that the spokesperson for the Depots and Petroleum Products Marketers Association of Nigeria (DAPPMAN), Adewole Olufemi, said the depots were in need of more fuel supplies from the NNPCL.
He submitted that "Until and unless the queues are completely eliminated, we'll require more volume than usual, DAPPMAN cannot be satisfied. We're working with the sole supplier, NNPC Ltd and the regulator to ensure PMS is available nationwide.
"Costs incurred by marketers, vessel chartering, trucking and approved margins will be recovered just as NNPC Ltd does to recover its cost inputs."
However, the spokesperson for NNPCL, Garba Deen, could not be reached on his official line for his comment.