Tinubu: Kano Will Repeat What Happened In 1993 – Ganduje Declares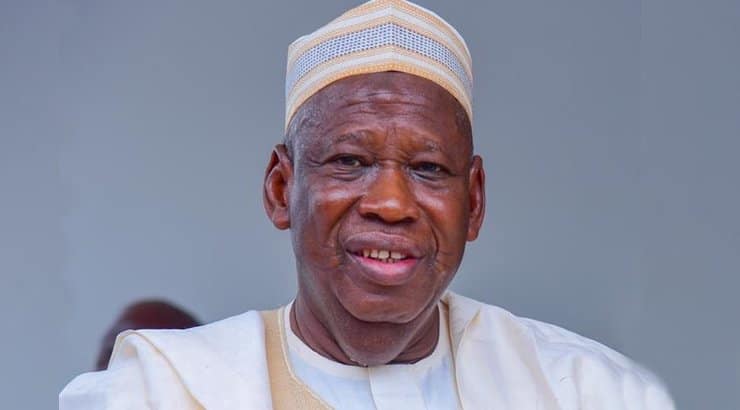 The Kano State Governor, Abdullahi Umar Ganduje has declared that people of the state will repeat the incident that happened with the 1993 Presidential Election situation in the state.
The governor said just like in 1993 when the people of Kano refused to vote for their very own the late Bashir Tofa, and instead voted for MKO Abiola, the 2023 situation would be so.
Naija News reports that the governor made the pronouncement during a campaign tour with candidates of the All Progressives Party, (APC) vying for different positions in the upcoming general elections in the state.
He noted that just like then Kano is ready to repeat history by doing same with the flag bearer of the APC, Bola Tinubu.
Ganduje submitted that the rotational rationale provides that power rotates from North to South and vice versa, it was therefore important to support Tinubu because he has helped the north clinch power on different instances before now.
The governor advanced that "That showed the political maturity and dexterity of Kano citizens. We voted for Chief MKO Abiola of the Social Democratic Party, SDP, and rejected Bashir Othman Tofa of the National Republican Convention, NRC, because we all believed in national integration and competencies.
"Tinubu was an instrument behind making Atiku Abubakar become the presidential candidate of Action Congress, AC. He also provided another platform for Nuhu Ribadu to contest for the presidency under the platform of the Action Congress of Nigeria, ACN.
"Asiwaju Tinubu worked very hard to maintain the equation. Hence, his support for northern presidential candidates in the past. One good thing deserves another. We have no other option now than to support his candidature."
Ganduje claimed that Tinubu, is the only deserving and most competent presidential candidate in the upcoming election and he has gotten the support of the north because of his firm belief in nation-building, human and national development and all-encompassing pedigree.
The governor also introduced all other candidates vying for the positions of senator, membership of the House of Representatives, Kano State House of Assembly, and governorship positions to the people.
Ganduje said: "I am presenting to all, our most competent and deserving contestants, [who are better than] other contestants from all other opposition parties."