CBN Cash Policy: Customers Share Experience As Banks Begin Implementation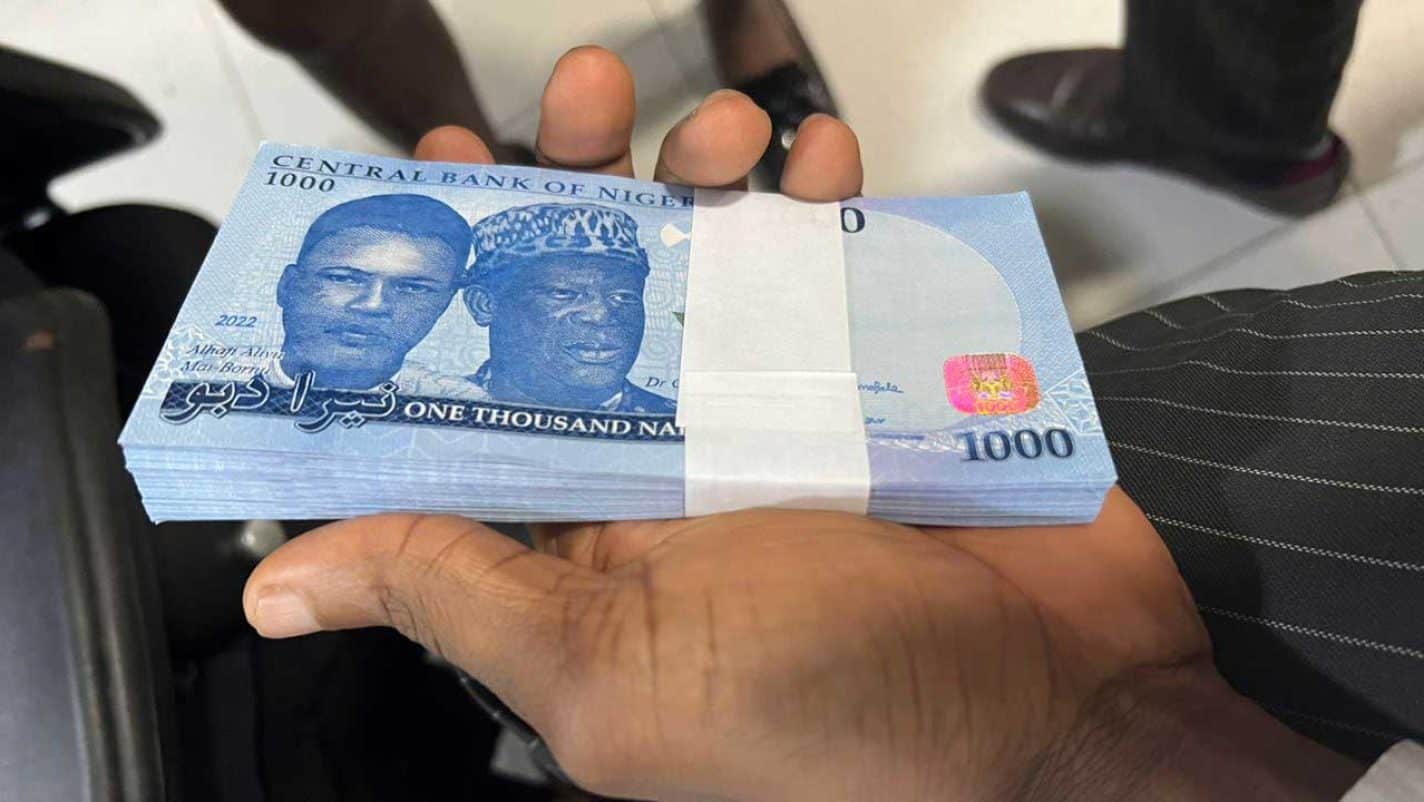 Nigerians have chided the Central Bank of Nigeria (CBN) on Monday after the apex bank's new cash withdrawal limit policy was implemented across financial institutions.
Over 20 Deposit Money Banks were said to have adopted the new policy yesterday, a development that was described as absurd by bank customers who said they shouldn't be told how to spend their hard-earned money.
Naija News recalls that the Governor of the CBN, Godwin Emefiele, revised the bank's earlier cash withdrawal limits last December following a series of negative remarks from Nigerians.
The apex bank issued a circular on December 6, 2022, fixing the maximum over-the-counter cash withdrawal limit by individuals and corporate organisations per week at N100,000 and N500,000, respectively. The CBN declared that withdrawals above these limits would attract processing fees of five per cent and 10 per cent, respectively.
It further stated that the maximum cash withdrawal per week via Automated Teller Machines from January 9, would be N100,000, subject to a maximum of N20,000 cash withdrawal per day.
The apex bank also directed banks to load only N200 and lower denominations into their ATMs.
Subsequently, the apex bank reviewed the maximum weekly limit for cash withdrawal across all channels by individuals and corporate organisations to N500,000 and N5m, respectively. The CBN said the new limit was adopted following feedback from major stakeholders.
Naija News understands that certain directives were also given as conditional for transactions above the withdrawal limits.
Many stakeholders, however, still gave a cold reception to the policy. Notwithstanding, the cash withdrawal limits policy took effect on Monday and many bank customers have condemned the CBN, saying the apex bank is being insensitive to the plight of cash-based businesses.
It Is Crazy To Limit How People Spend Money They Work For
Some bank customers interviewed on Monday described the new policy as crazy, saying people should not be guided on how to spend the money they worked for. One of the bank customers, Sola Adewale, told The PUNCH during an interview in Mowe, Ogun State, that "I personally think putting a limit on how people should spend money they worked for is crazy. The N500,000 weekly withdrawal limit may be too much for some people while it is too small for others. This affects some businesses that need much cash."
According to her, putting a limit on cash expenditures won't reform Nigeria in any way because the people who spend lavishly will still have access to whatever amount of money they need. She stressed that in the end, it is the common man that will suffer the most.
Another bank customer who gave her name as Grace Chukwu in the Ogba area of Lagos, said, "I am an entrepreneur with three companies. I use First Bank, FCMB, Zenith Bank and Sterling Bank. I will use this opportunity to applaud the service I receive from First Bank, Sterling Bank and other banks. I'm not really bothered because I hardly transact with cash, I do bank transfers most time.
"But I can understand how this new policy will affect other organisations and people who still don't trust the available Internet banking options in our rural and urban communities and need to move funds above the amount permitted via Internet banking. I've been a victim myself a few times. So, I don't blame them. And let's face it, cash is still king. I feel they should review it."
Other customers who also reacted to the development, gave negative remarks about the CBN's new policy, noting that the cash withdrawal limit will negatively affect individuals and businesses.
According to one of them, the policy does not connote that the country is moving forward.
"People make their money for themselves, and regulating how to spend our hard-earned money is a complete turnoff.
"Imagine me having a transaction above the stipulated limits, so I'll have to spend up to a month to complete a particular transaction. How long will it take me to do five to 10 transactions as an individual let alone as a business owner?" Maduabuchi Mercy remarked.
Remarks From Abuja Banks, Customers
It was observed that some banks in the nation's capital city also began implementation of the cash withdrawal limits on Monday.
Journalists who toured the city revealed that banks located at Garki, Area Two, observed the CBN withdrawal policy via their ATM stands.
The likes of Zenith Bank, Keystone Bank, Ecobank, and Access Bank also enforced the policy, Naija News understands. Journalists who visited the commercial banks observed that customers using their debit cards at the same bank's ATMs were able to withdraw higher amounts.
"You can only withdraw N100, 000 per day over the counter in line with the CBN policy. If you want more, you would have to go through the necessary process.
"However, I advise that you use other methods to transfer if you need more money. The main purpose is to ensure that a proper audit can be done and nobody takes our money out of the country," The PUNCH quoted an Ecobank staff who pleaded anonymity saying.
Reacting, the National Publicity Secretary of The Association of Mobile Money and Bank Agents in Nigeria, Olusegun Elegbede, said the implementation of the policy was being observed, adding that the effect would be seen by end of the week.
He said, "Well, it is still early to draw any form of conclusion around it. We may not likely not be able to appreciate the effects until later this week."
The PUNCH visited Ecobank, Zenith Bank and First Bank, located at the Jabi area in the Federal Capital Territory.
At the Ecobank Jabi, an employee told one of our correspondents that the bank had started the implementation of the new withdrawal limit.
Despite weeks of notification, it was observed that many Point of Sale (PoS) operators were still not aware of the new policy.
It was also observed that at the Ecobank on Ogunnusi road, Berger Bus stop, three ATM galleries at the bank were dispensing old notes as of the time journalists visited the area.