Lagos Baker Lands In Prison Over Alleged S3xual Act With Minor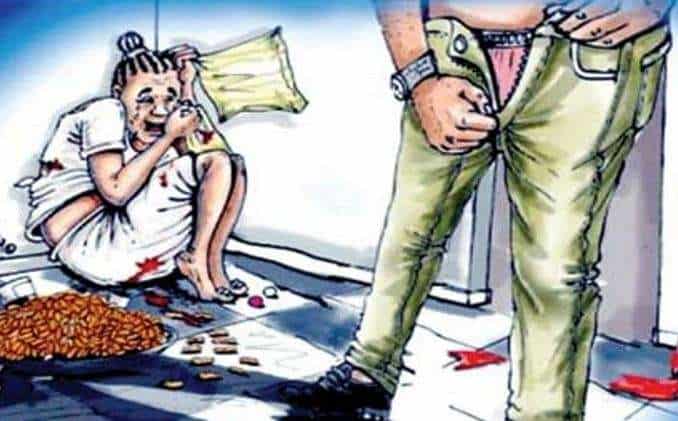 One Samuel Emmanuel, identified as a baker in Lagos, has landed himself in prison over the alleged molestation of a minor.
Naija News understands that Emmanuel is being tried for sexual assault. According to reports, the suspect committed the crime in November last year when he called a twelve-year-old girl under the pretext of buying cow skin (pomo) from her.
The resident of the Ileejo area, Lekki, Lagos, reportedly lured the girl into his room and forcefully had carnal knowledge of her through the anus.
Police prosecutor, ASP Raji Akeem, told an Ikeja Chief Magistrates' Court on Monday that the victim was rescued by the people in the neighbourhood who heard her screaming.
However, Emmanuel was said to have molested the girl before the arrival of the neighbours. According to the prosecutor, the offence contravenes Section 261 of the Criminal Law of Lagos State, 2015.
Presiding over the case, the Chief Magistrate, B.O Osunsanmi, refused to listen to the defendant's plea.
Osunsanmi ordered the 38-year-old man to be remanded in Kirikiri Correctional Centre until Jan. 25 for the Director of public prosecution's advice.
Meanwhile, Renowned Nigerian televangelist and founder of Salvation Ministries in Port Harcourt, Rivers state capital, Pastor David Ibiyeomie, has banned his followers from enjoying their marital rights as the church commences twenty-one-day fasting.
Naija News understands that Pastor Ibiyeomie declared a 21-day fasting and prayer for the church last Sunday. In lieu of this, he ordered married couples in the church to avoid s3x until the end of the spiritual exercise.
During the church's Sunday thanksgiving service for the year 2023, Pastor Ibiyeomie told his congregation that physical intimacy would not be allowed during the fasting period, stating that abstinence from s3x for only three weeks would not kill anyone.
Giving Bible references to back his claims, the cleric read recommended 1 Corinthians 7:5 for the couples.
The Bible scripture given by Pastor Ibiyeomi reads: "The wife's body does not belong to her alone but also to her husband. In the same way, the husband's body does not belong to him alone but also to his wife. Do not deprive each other except by mutual consent and for a time, so that you may devote yourselves to prayer, – 1 Corinthians 7:5".