2023: Peter Obi, Datti Baba-Ahmed Reel Out Plans For Nigeria If Elected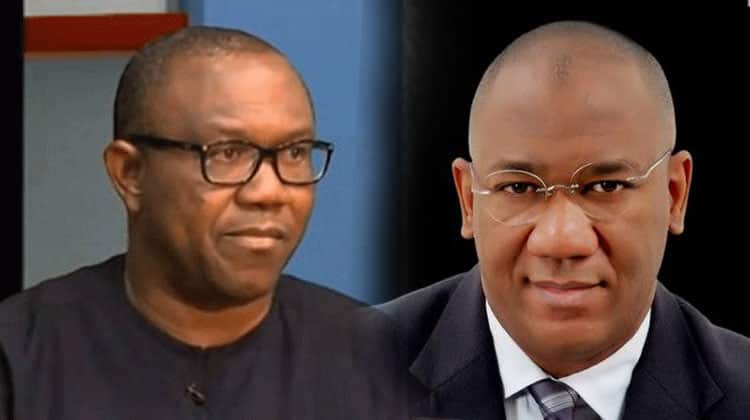 The Labour Party (LP) presidential candidate Peter Obi and his running mate Datti Baba-Ahmed have reeled out their plans for Nigeria if elected into office at the forthcoming election.
Speaking about what they intend to do for Nigerians if voted to power next month, the duo suggested solutions to lingering challenges bedevilling the country in areas of security, and electricity, among others.
Naija News gathered that the Labour Party flag bearer, while featuring on a Channels TV programme The People's Townhall on Sunday, said to address security, he will negotiate with agitators and adopt the carrot-and-stick approach to reverse the trend.
Obi submitted that he believes negotiations are key because agitations are not a new trend and that even at the family level, children, wives, and others do so too.
While attributing the issue to a sense of injustice, Obi also suggested that community policing can help in curbing insecurity because most of all the issues start at community levels.
He noted that "We are in a democratic dispensation; you govern by discussing, you govern by consensus. So, I will sit down and discuss with every agitator without the exception of the name. We must use carrot and stick (approach).
"There is no reason we should not have local, state and federal, and national policing," he said, adding that the constitution will be tweaked to "suit it."
Speaking about how to tackle fuel subsidies, the Labour Party chieftain, who described the payment of subsidies on fuel as "organised crime", explained that "They have removed it. That's what they've done. But I can assure you, it will go immediately. Subsidy – I've said it before – is organised crime and I will not allow it to stay a day longer.
"What they're telling you is not what it is. Half of what is being mentioned is not subsidy. First is that we consume the quantity that is not supposed to be consumed here. We are the same population as Pakistan. They consume below 50 per cent of what we consume.
"So, the first half, I will remove it and give those people who are drinking it water – because that's what they're supposed to drink – so we can save the money."
Naija News reports that Obi pointed out that he would declare war in the area of power if elected to power while promising his government would do all it takes to improve the sector.
Obi, who revealed how he travelled to understudy Egypt's power sector, last year advanced that "We have to open up as South Africa has done. They have power issues like us, even [though] they are 60 million and they are generating almost 40-something-thousand, they declared [a state of] emergency and said anybody can generate up to 100,000 megawatts without licence.
"If somebody who is 60 million (sic) and generating almost 50,000 megawatts declared [an] emergency, we would declare war here on power. If it will consume everybody, it will consume us, but we will get power.
"Egypt did the same thing. Egypt had about 20,000 megawatts. One of their studies showed that power is a critical issue. Today, Egypt is generating almost 50,000 megawatts. In fact, Egypt is exporting power to Europe. If these things can be done around us – South Africa and Egypt – why not Nigeria?"
While giving his contribution, Obi's running mate, Baba-Ahmed discussed their plans for the sports sector and vowed that Nigeria will never miss the World Cup if they are elected to power at the polls.
He said "I will plead with Mr President to see that whoever is in charge of sports will see that we move mountains to bring the African cup to Nigeria. There is no way World Cup will be played without Nigeria, Nigeria has passed that, it will never happen again by the grace of God."