Premier League: Man United Continue To Rise As Arsenal Drop Points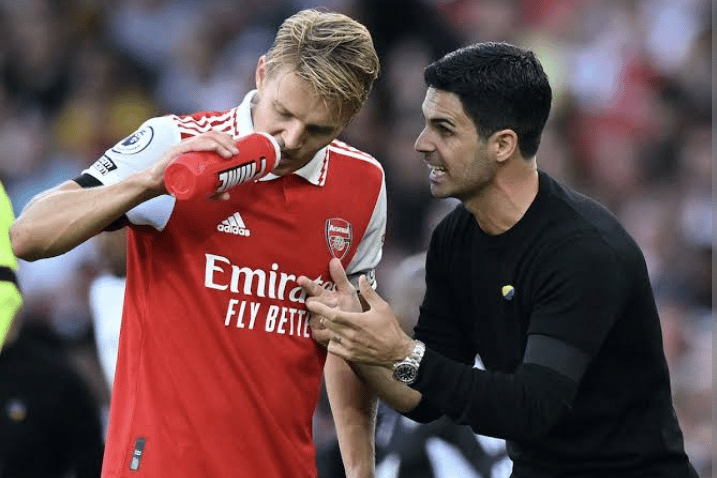 It was not all rosy for Premier League leaders, Arsenal as Mikel Arteta and his boys failed to get the three maximum points against Newcastle United at the Emirates Stadium on Tuesday.
Third-placed Newcastle United ensured that the in-form Premier League table leaders do not get more than a point as the encounter ended in a barren draw. The draw left Arsenal on top of the league table with 44 points in 17 games, 6 points above second-placed Manchester City.
As for Manchester United, coach Erik ten Hag and his boys continued with their smooth run on Tuesday night. They gave no chance when Bournemouth came to visit the in-form side at Old Trafford.
Goals from Casemiro in the 23rd minute, Luke Shaw, in the 49th minute, and Marcus Rashford, in the 86th minute sealed the 3-0 victory for the Red Devils.
The victory has further cemented Manchester United in the league's top four as they now sit 4th with 35 points in 17 games, five points above 5th placed Tottenham Hotspur.
As for Leicester City, their downward movement continued on Tuesday when they hosted Fulham. Coach Brendan Rodgers and his boys were expected to beat 7th-placed Fulham to boost their chances of surviving relegation but it was not to be.
A 17th-minute goal from Serbia striker, Aleksandar Mitrović was enough to give Fulham an away victory and sink Leicester deeper. Rodgers and his boys are now sitting in the 13th spot with 17 points in 18 games, three points away from the relegation zone.
Also, coach Frank Lampard and his boys continued with their shambolic performance when they hosted Brighton on Tuesday night. Brighton ensured that they tore Everton apart with four goals.
Goals from Mitoma, in the 14th minute, Ferguson, in the 51st minute, March, in the 54th, and Groß, in the 57th minute, destroyed Everton's hope of getting at least a point in the game. The host got a goal back via a spot kick in injury time thanks to Gray but that was inconsequential.
The 4-1 defeat has pushed Everton further down the pecking order as they now sit 16th on the log with 15 points in 18 games, a point away from the relegation zone. While Brighton are occupying the 8th spot with 27 points in 17 games.
Up Next in the Premier League
Later today, Wednesday, January 4, actions in the Premier League will resume.
There will be a game at 20:30 – Southampton vs Nottingham Forest. A couple of minutes after, Leeds United will host West Ham United at 20:45.
At 21:00, there will be two Premier League games to watch out for – Aston Villa will host Wolves while Crystal Palace will host Tottenham Hotspur.