Peter Obi: 70 Percent Of Buhari's Cabinet Came From Tinubu – LP Reacts To Obasanjo's Endorsement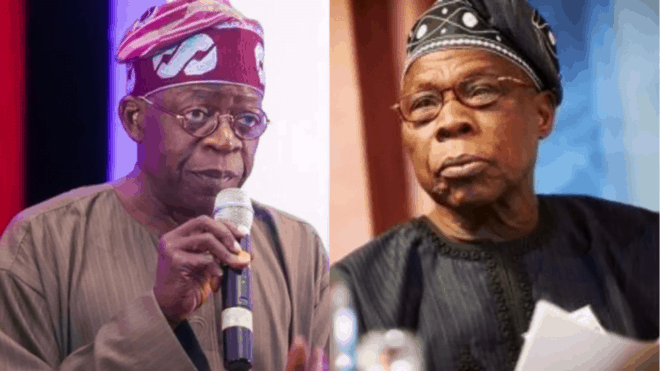 The leadership of Labour Party (LP) has praised former President Olusegun Obasanjo for his decision to endorse the presidential candidate of the party, Peter Obi.
Recall that Obasanjo, in a New Year message to Nigerian youths, had endorsed the LP flag bearer insisting that he is the most worthy candidate amongst the other front runners.
Reacting to the endorsement via a phone chat with Punch, the National Secretary of LP, Umar Farouk stated that it was a worthy New Year gift for both the party and its presidential candidate.
He hailed the former president, adding that he is a peace advocate and a nation builder.
Speaking further, the LP stalwart argued that Obasanjo's endorsement has proven that those contending with the former Anambra Governor does not have what it takes to pull Nigeria from the quagmire it is in. He stated that the endorsement was a step towards the right direction.
Farouk alleged that 70 percent of the cabinet of President Muhammadu Buhari is from the All Progressives Congress presidential candidate, Bola Tinubu, wondering what he was able to achieve for the country with his people in power.
Taking a swipe at his principal's counterpart in the Peoples Democratic Party, Atiku Abubakar, the LP Nation Secretary stated that Obasanjo's rejection of his former Vice-President has shown that he is not worthy enough to lead the country.
According to him, "We are very excited. It is one of the greatest gifts that the Labour Party and our presidential candidate will ever have. Expectedly, President Obasanjo is someone who is known to be an advocate of peace and a nation builder. He has indeed proven to the world and the international community that our presidential candidate is one of the best.
"Therefore, I think Obasanjo's endorsement is a step in the right direction. Beyond that, the castigation of his former vice president, that he is not trustworthy, indicated that Nigerians should follow Obasanjo's recommendation by supporting our candidate.
"It has been proven that none of these people contesting against Obi can really deliver Nigeria. Is it Tinubu or Atiku? We have seen what they can do.
"Tinubu is a leader of APC and we know 70 per cent of Buhari's cabinet is from Tinubu. What has he done for the betterment of Nigerians? Atiku too as VP has been virtually in charge of Obasanjo's administration and sales of Nigerian assets for eight years. That's the only thing he can talk about after all these fraudulent sales of the country's assets. But Nigerians know better.
"We pray that this New Year's gift by Obasanjo is something we are very happy with and we would like other elder statesmen to emulate him by endorsing Peter Obi to change the government for the betterment of Nigerians."