Is Wike The Owner Of Julius Berger? – Secondus Reacts To Allegation Of Failing To Complete Awarded Contracts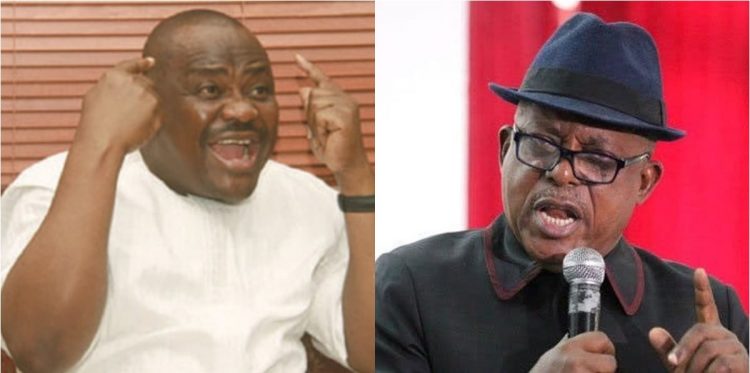 A former National Chairman of the Peoples Democratic Party (PDP), Prince Uche Secondus has berated the Governor of Rivers State, Nyesom Wike over his statement alleging that he failed to execute contracts awarded to him.
Naija News recalls that during the commissioning of the Eneka-Igbo Etche Road project on Friday, Wike had accused Secondus of failing to complete the contracts awarded to him.
Wike said in some instances, the contract sum was fully paid, but the projects were not completed. He challenged the former party chairman to name any road contract he was awarded that he completed.
However, Secondus in a short interview with Sunday Punch insisted that there is no truth the claim. He explained that he has never been a contractor or collected any contract from the state.
He said, "It is wrong of him to make such weighty allegations without any evidence. Let him do his investigation and go to the Corporate Affairs Commission to get the details of the companies he has given contracts to or those that the state gave contracts. I am not one of them.
"With his status, it is wrong for him to buy airtime from television stations and be dishing out outright lies and half-truths. Is he the owner of Julius Berger, which has done so well in the state by executing contracts running into hundreds of billions of naira?"
Seconds said he was more focused on helping the party's presidential candidate Atiku Abubakar in attaining the presidency in the February 25 presidential election.
"As for me, I am not a violent man and I remain committed to the victory of our presidential candidate and his running mate, Atiku Abubakar and Ifeanyi Okowa in the forthcoming presidential election. I call on Governor Wike to join hands with progressive-minded people in Nigeria to be part of a positive history. I am sure he loves the PDP and won't do anything to jeopardise its victory at any level. I wish the governor a happy and prosperous new year," he added.