Strike: Apologise To ASUU, Falana Tells Gbajabiamila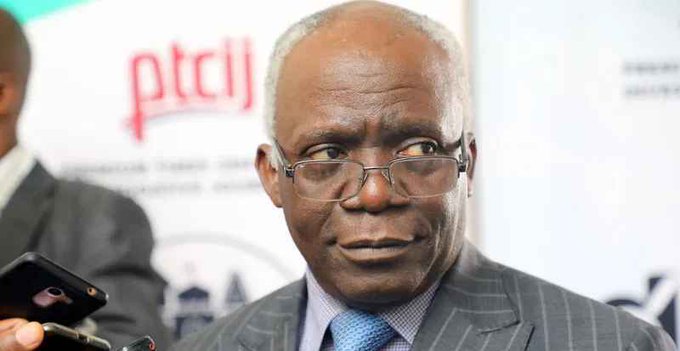 The lead counsel for the Academic Staff Union of Universities (ASUU), Femi Falana (SAN), has come out to state that the speaker of the House of Representatives, Femi Gbajabiamila, needs to apologise to members of the academic union.
Naija News reports that Falana said it's not appropriate that Gbajabiamila is denying the agreement reached with ASUU.
The Senior Advocate of Nigeria told Punch that Gbajabiamila's efforts regarding the resolution of matters related to the strike between the government and ASUU were truncated by a member of the Federal Executive Council.
Falana's apology request follows a trade of blame between the ASUU president, Prof Emmanuel Osodeke and the Speaker over what the union described as deceit from Gbajabiamila.
Naija News reported on Wednesday that Osodoke alleged that Gbajabiamila deceived the varsity union into calling off its eight-month-old industrial strike.
According to him, Gbajabiamila took advantage of the soft spot he had on ASUU and, with a written promise, assured the union that the government would immediately, in full, offset the arrears of salaries owed to its members after calling off the strike.
A claim that the speaker has come out to debunk, saying no time was committed to offsetting the arrears of salaries owed to union members for the time they were on strike.
In a statement issued to newsmen in Abuja on Wednesday, the spokesman of the House of Representatives, Benjamin Okezie Kalu, faulted the ASUU president's allegation against Gbajabiamila.
Kalu explained that the House of Representatives instead helped resolve the strike by making commitments to improve the welfare package of university lecturers and revitalization funds to improve the infrastructure and operations of federal universities.
However, the human rights lawyer in his reaction told Punch that "It is public knowledge that the Speaker of the House of Representatives, Honourable Femi Gbajabiamila intervened in the last strike embarked upon by the Academic Staff Union of Universities. Several meetings were held with the relevant stakeholders by the leadership of the House. While briefing the Nigerian people on the resolution of the crisis on October 10, 2022, the Speaker did categorically state as follows:
"We agreed with ASUU and the government on certain things which we took to Mr President. I have visited the president twice. The first time we made our recommendations with the government shifting some and ASUU shifting some. We spoke with Mr President. There was one sticking issue which was the issue of no work no pay. And the President did ask that he would suggest the recommendations and would have one more meeting which we did on Friday after the budget.
"That meeting was even better than the first one we had with him, and Mr President had agreed to settle things. I am not going to talk about that now, and that he would disclose whatever it is tomorrow, Tuesday which is tomorrow."