Obi Cubana Gives Update On Lagos Water Hawker Who Shared Money To Prisoners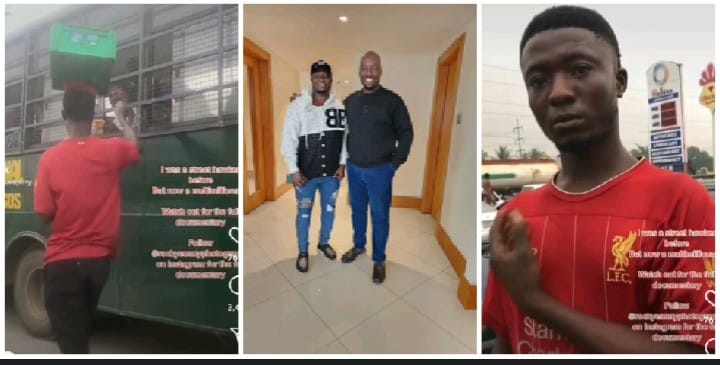 Nigerian businessman and socialite, Obinna Iyiegbu popularly known as Obi Cubana has shared an update of a Lagos pure water seller who went viral after giving out money to prisoners.
Naija News recalls that about a year back, the hawker, Ekuma Jeremiah was caught on camera giving money to the occupants of a Nigerian Correctional Service bus in the area of Ajah, Lagos State,
In an interview with Punch, Jeremiah had said that he gave the money to the inmates because he was concerned for them.
Ekuma said he had no ulterior motive for his action, as he only considered himself to be in a better place than they were and wished to help them.
Reacting to the young man's benevolence Obi Cubana announced his intention to sponsor Ekuma to University level.
Speaking during an Instagram Live he had said, "Love should be shown in our actions and not just in our words. I want to meet the young boy who despite being a hawker, gave N100 notes to people in a prison van and was not even aware that he was been filmed by a concerned passerby who was driving on the same road.
"Anyone who knows him should connect the boy with Daddy Freeze or me. I want him to go to school in good condition, and I would see him through the University, and if he wants to do his Masters degree abroad, I would also make sure that he is comfortable while going to school because his generosity touched me.
"I would do whatever he wants for him, and by God's grace, when he is done in school he would get a top-level position at any of my organisations, and if he, however, finds a higher calling, he is free to do as he pleases. The most important thing is that I want him to know that he now has a mentor who would guide him through this tough world."
In a fresh post, the socialite has once again taken to Instagram to share a video of the hawker.
He wrote, "A short story! Jerry?
It's been almost a year his good deeds brought him to us.
Keep doing good, God is watching!
God has remembered Jerry!!!
Thank you @daddyfreeze for bringing him to limelight."
Watch the video below