Dump Atiku, End Your Political Career – Dino Melaye Warns Wike, Ortom, Makinde, Others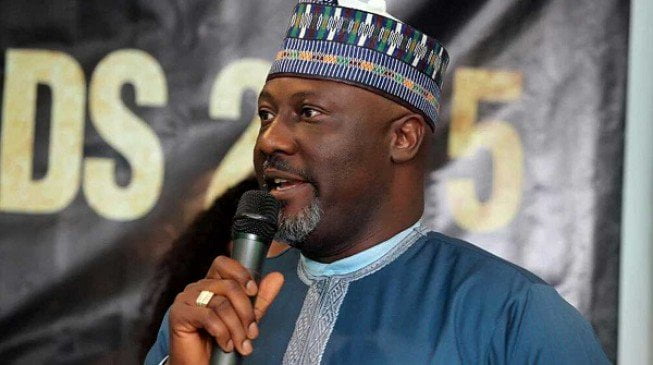 The spokesman for the Peoples Democratic Party (PDP) Presidential Campaign Council, Senator Dino Melaye has warned the five aggrieved governors about the fate that would await them should they dump Atiku Abubakar for an opposition candidate.
The G5 governors, who have resolved not to back the presidential candidate of their party, former Vice President Atiku Abubakar, are currently out of the country to meet and decide who to support between Bola Ahmed Tinubu of the All Progressives Congress (APC) and Peter Obi of the Labour Party (LP).
The G5 governors comprise of Governors Nyesom Wike (Rivers), Seyi Makinde (Oyo), Okezie Ikpeazu (Abia), Samuel Ortom (Benue) and Ifeanyi Ugwuanyi of Enugu states and some political heavyweights from the South – known as the Integrity Group.
Speaking to The PUNCH, Dino Melaye warned that the political careers of the five aggrieved governors and their allies would come to an end should they ditch the candidate of their party.
He stated, "No blackmail, hate, or outrageous envy will stop Atiku. I pray it is not true (G-5 governors' imminent endorsement of their preferred candidate).
"Attacking Atiku will cost them their political future. You don't fight a man who has done nothing to provoke you. Atiku's only offence is that he won a presidential primary transparently and openly. No man should play God.''
The former lawmaker said, "It is too late to stop Atiku. They should have a re-think while they can. Atiku will be president because the people have decided.
''My advice to the G-5 is 'don't end your political career because of an inordinate ambition and capricious manifestation that will yield no result.' If they take that step, it will be the last kick of a dying horse."
Buhari's 12 Million Northern Votes
Also speaking on the development, Daniel Bwala, another spokesman of the PDP Campaign Council, claimed that Atiku has taken over President Muhammadu Buhari's 12 million Northern votes.
He said when you add Atiku's 8 million  plus votes to the 12m Buhari usually garner every election before 2015 , Atiku is already coming to the election with 20m votes.
On why the election is Atiku's to lose, Bwala said, "Haven't you seen that the PDP was the first to inaugurate a campaign council; the first to commence campaign, the leading party in terms of coverage and impact? And we are presently closing in on all the zones.
"Have you not been reading the wide acceptance of Atiku across board? Look, no one can kill an idea whose time has come; no one! Need I remind you that the Bimodal Voter Accreditation System for the election is an election of the people over the big man or big men?
"Have you not seen that in the All Progressives Congress rallies in Niger, Kaduna and elsewhere that when they chanted Nigeria, the crowd replied sai Atiku? Or is it Peter Obi whose Akwa Ibom, Cross River, Rivers and Lagos rallies put together is not up to half of our (PDP) Katsina rally where the President of APC's party comes from, that can win this election?"