Wike Reacts To Accusation Of Plotting To Kill Atiku's Ally, Maeba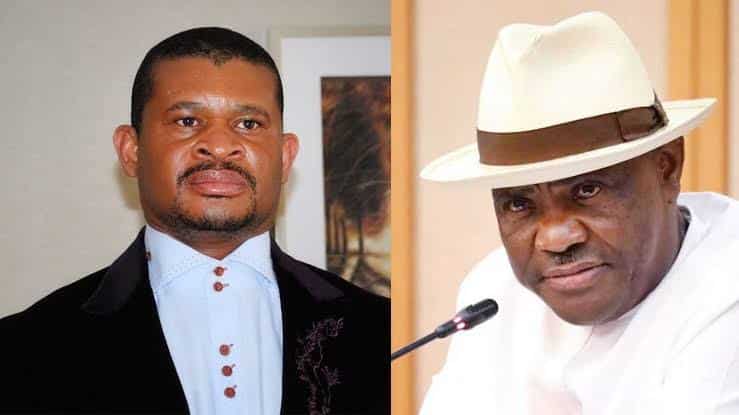 Governor of Rivers State, Nyesom Wike has denied claims that he sent assassins to kill a former Senator representing Rivers South-East, Lee Maeba.
Wike, who spoke at the commissioning of the Bori-Kono Road in the state on Friday, said he has never adopted violence to achieve anything in his political career.
The governor said it was unfortunate that the likes of Maeba, who is the Director General of the Atiku/Okowa Presidential Campaign Organisation in Rivers state, could be accusing him of violence.
Wike, however, wondered why the former Senator would allege that he sent assassins to invade his house and kill him and his family.
Naija News reports that this is the second time governor Wike will be reacting to the allegation made by Maeba following an attack on his residence.
Recall that Maeba, who is currently at loggerheads with Wike, had last week accused the governor of sending hoodlums to attack his residence on Professor Abowei Street, GRA, Phase 3 in Port Harcourt.
Speaking with reporters in Port Harcourt after the unfortunate incident, Maeba had claimed that the hoodlums were after his life for supporting the PDP Presidential candidate, Atiku Abubakar.
The former lawmaker said the gunmen injured at least three persons and vandalized about five cars during the deadly attack.
According to Maeba, his neighbors had observed strange movements around his residence before the invasion.
Maeba said a young man called him to warn him about the planned attack, adding that his house was attacked shortly after he went out to visit his mother-in-law.
He also expressed regrets that despite his distress calls to the Commissioner of Police in the state, the Director of the Department of State Services (DSS), and the Inspector-General of Police, no help came.