Soludo Vows To End Sit-At Home Trend In Anambra By Next Year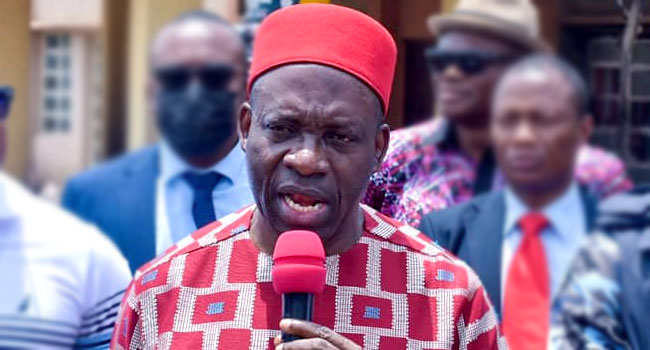 The Anambra State Governor, Chukwuma Soludo, has pledged to end the trend of weekly sit-at-home orders in the state.
According to him, the trend that has lasted for several months has to completely stop in Anambra by next year because the state has had enough of it.
Naija News reports that the governor on Wednesday the occasion of the 2022 Public Servants Day vowed to abolish the trend noting that Anambra could no longer afford the loss of 20% of its public life to sit-at-home which is already becoming part of the life of people in the southeast region.
Soludo also condemned the self-acclaimed factional leader of the Indigenous People of Biafra (IPOB), Simon Ekpa, a Finland based who ordered five days of sit-at-home in the southeastern state of the country recently.
According to the governor, Ekpa the organiser of the last sit-at-home was "a madman in Finland" who had ordered attacks on innocent people.
The governor noted that "Eight LGAs were totally taken over at the time we came, they said they were unknown gunmen, no, they are known gunmen born of women and from communities.
"Last week, one madman living in Finland said he was declaring sit-at-home, it was only in Anambra that it was not observed. By the time you return next year, we shall stop sit-at-home.
"We must get back to work, working five days a week, we must take back Anambra from the criminals, we can not build a prosperous Anambra when we work four days, when our children go to school four days, that is a 20 per cent loss in productivity."
At the event, Naija News learnt Soludo congratulated all the public servants in the state, including those nominated for awards, the 21 commissioners and all the managing directors of parastatals and agencies.
He said, "I congratulate the Commissioner for Lands, you know I am not a politician, I say it the way it is, I have told the HoS that it is not within her powers to begin to decide which commissioner did well or not. No, it is not your remit to do that.
"You can have that for people who are under you, you cannot begin to tell me which commissioner did what, they are your colleagues and you cannot set examination for your colleagues, it is wrong.
"That will create dysfunction within the government, soon, they will start running to HoS looking for awards, it is not done."