Ex-Deputy CBN Gov, Moghalu Withdraws From Partisan Politics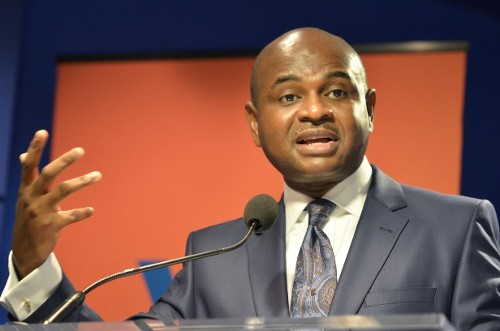 Former Deputy Governor of the Central Bank of Nigeria (CBN), Kingsley Moghalu, has withdrawn from partisan politics.
Naija News reports that the presidential candidate of the Young Progressives Party in the 2019 general elections announced this on Wednesday, December 21, 2022, via his verified Twitter handle.
Moghalu expressed his gratitude to those who believed in him and supported his political ambition in the time past. He, however, appealed to them to understand and respect his decision as he completely withdraws from partisanship.
The Lagos-born political economist explained further that he now runs a policy think tank as well as venturing into other profitable businesses.
Moghalu said he had no regret for his part in politics, noting that he was there and also came out in clean hands. According to him, he has paid the price and sacrificed for the goodwill of the country.
He noted that despite quitting partisanship, he still has a preference among those contesting for positions and will vote for his preferred candidate at the poll.
Moghalu long thread reads: "I am happy and have found peace in withdrawing from partisan politics. No apologies. As a citizen I will always have my preferences and will vote for specific candidates, but there are times and circumstances when one can better contribute to nation-building from a nonpartisan perspective.
"Partisanship is necessarily divisive. I have been in that space before. No longer. I have paid my dues. Besides, I have always had a second (professional) address outside politics. Some professional activities are simply INCONSISTENT with, and won't be credible, if mixed with partisan politics. Running a policy think tank such as @IGETAfrica (which can bring out policy ideas that can benefit political leaders and candidates) is one of such activities. Certain types of business and entrepreneurship as well.
"I understand the passions and goodwill of those who argue on this street that I should formally "declare/campaign for this candidate or the other. They argue so because they believe my views are listened to and may be "influential". But I urge such people also to understand and respect my own personal decisions.
"They have not, like I have been, presidential candidates (without having a war chest of stolen public funds) or stood in the arena. bloodied but unbowed. No regrets, but only I know what I have sacrificed, the personal price I have paid.
"Many people cannot do it, especially someone in my position who really did not need to, where there were so many other more comfortable things one could have done with one's time. But the impact my humble, sacrificial effort made in 2019 and earlier on in this current cycle, is part of what paved the way and is driving, today's story. That's a major contribution. I am satisfied, for the quest for Nigeria's redemption is a journey, not an event."