Ronaldo's Girlfriend, Georgina Rodriguez Reflects On 2022
Georgina Rodriguez, Cristiano Ronaldo's girlfriend, has reflected on 2022, a year that saw her and her husband lose a child during birth.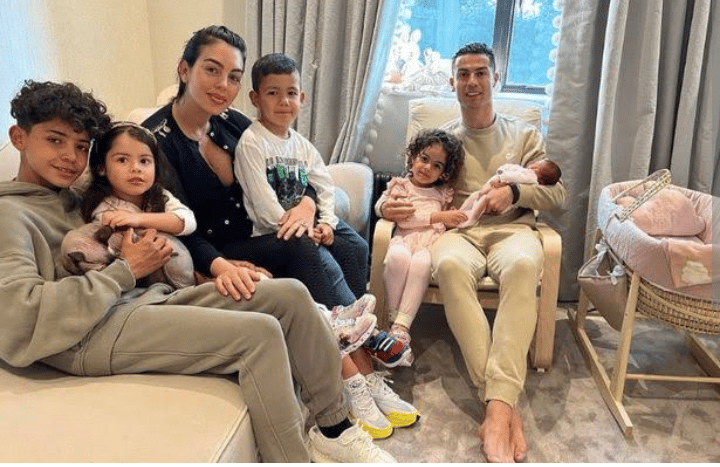 Georgina Rodriguez and Cristiano Ronaldo have been dating since 2017. Their relationship started after the 37-year-old footballer met with Georgina at a Gucci store in the United States where she was working as a salesperson.
Since then, they have welcomed a daughter Alana Martina. They would have had twins earlier this year but one of them (a son) died during the delivery process.
The female twin, Bella Esmeralda, survived but fell sick three months after her birth. Her sickness forced Ronaldo to miss last preseason.
When Georgina Rodriguez appeared in Elle Spain's January issue, the 28-year-old Argentine model admitted that 2022 has been a complicated year for her.
"This year has been the most complicated of my life, the happiest moment became both the saddest", she said.
"It is something that will accompany me for life and that we will not be able to forget."
Recall that it was this year that Cristiano Ronaldo lost his contract with Manchester United after granting an interview with Piers Morgan in which he criticized the club.
Also, Ronaldo led Portugal to the 2022 FIFA World Cup as a club-less player. During the tournament, he encountered a fallout with the country's then-coach Fernando Santos who forced him to the bench.
He played from the bench in the round of 16 and also played from the bench in the quarter-final stage of the World Cup. Unfortunately for the 37-year-old forward, he couldn't do much as Morocco knocked Portugal out of the tournament with a lone goal.
Even though the fortunes of the five times Ballon d'Or winner in football is dwindling, Georgina Rodriguez believes she is currently dating the best football player in the world.
She said: "Cristiano and I fell in love at first sight, when I saw him for the first time I felt that time stopped.
"I have never seen a man so handsome, so attentive… he is the most handsome man my eyes have ever seen.
"And yes, I am the girlfriend of the best soccer player in the world, but it is not necessary for people –and many of them women– to use it in a derogatory way."
"My relationship with him has allowed me to fulfill many of my dreams, but always, both before and after meeting him, I have put the same passion in everything I have done… Being a cleaner, salesperson or model."