Biafra: Ejimakor Unveils 3 Debts President Buhari Owes Nnamdi Kanu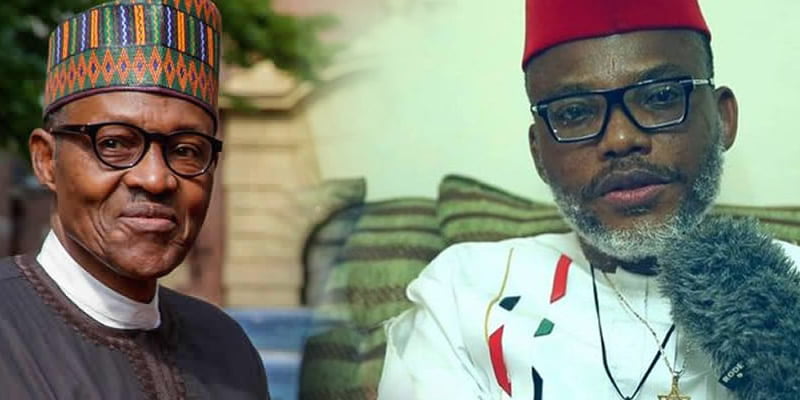 The special counsel, Aloy Ejimakor to the embattled leader of the Indigenous People of Biafra (IPOB), Nnamdi Kanu says President Muhammadu Buhari owes the Biafra agitator three debts.
Speaking on Tuesday via his Twitter account, the lawyer said Buhari owes the IPOB leader a confidential 2018 international decision, the United Nations (UN) Opinion; and the Federal High Court judgment.
He warned that the government is promoting lawlessness if it can't respect and implement laws.
He tweeted: "Buhari has 3 outstanding debts to #MNK & to freedom – the 2018 international Decision that remains confidential, the UN Opinion & the Federal High Court Judgment.
"If the government becomes the lawbreaker, it invites every man to become a law unto himself" – Louis Brandeis."
Naija News recalls Kanu has been in the custody of the Department of State Services (DSS) since 2021 when he was extraordinarily repatriated to Nigeria from Kenya under controversial circumstances.
The IPOB leader has been granted bail after appearing in court but the government has moved against the bail, insisting that Kanu is a security threat and there are other cases against him yet to be determined by the court.
Kanu Dieing In DSS Custody – IPOB
The proscribed Indigenous People of Biafra (IPOB) has accused the Department of State Services (DSS) of systematically killing its leader, Mazi Nnamdi Kanu, in detention.
In a statement by IPOB Media and Publicity Secretary, Emma Powerful, the pro-Biafra group claimed that its leader is suffering from heart problems and some mineral deficiencies which require specialists' attention.
IPOB also berated the Muhammadu Buhari-led Federal Government for refusing to release Nnamdi Kanu as ordered by the courts.
According to the outlawed group, the Federal Government has prevented the pro-Biafra activist from accessing his personal physicians.
IPOB said the DSS is instead patronizing roadside pharmacies for his drug, "which we see as a systematic and gradual diminishing and killing of his life and final elimination method."