2022 World Cup: Thing You Didn't Know About Lionel Messi
Argentina's Lionel Messi lifted the World Cup trophy following his country's dramatic victory over France in the final of the 2022 World Cup in Qatar.
Naija News reports that Messi, who was presented with a traditional Arab cloak  (Bisht) plays for Qatari-owned Paris Saint-Germain and is an ambassador for Saudi Arabia.
He became the first player in World Cup history to score in the group stage, the round of 16, quarter-final, semi-final, and final in a single edition of the tournament.
The Argentine made his 26th appearance in a World Cup match, becoming the all-time record holder for most games played at the tournament, overtaking Lothar Matthaus (25).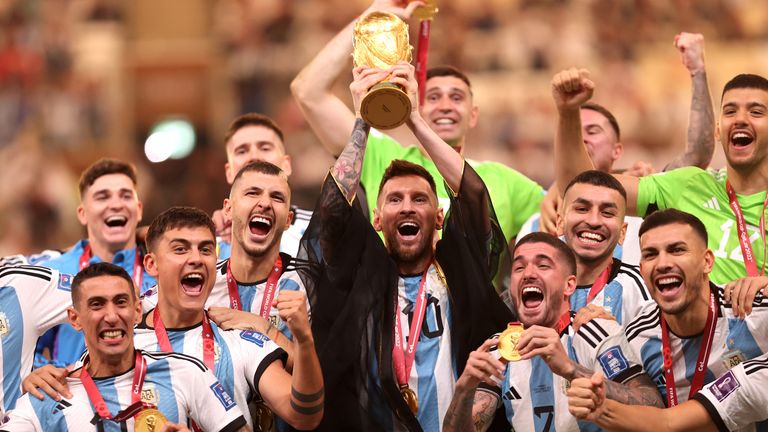 Messi has scored 26 goals in major international tournaments for Argentina (13 World Cup, 13 Copa América), the most of any South American player in history across the two competitions, overtaking Ronaldo (25).
In France's Kylian Mbappe and Argentina's Lionel Messi, this was the first ever World Cup final to see both teams have a player score at least twice. Mbappe himself was only the second-ever hat-trick scorer in a World Cup final after England's Geoff Hurst in 1966.
Meanwhile, Messi has announced that he will not retire from international football, saying he wants to continue playing as a world champion.
Despite being 35, Messi wants to carry on playing for his country beyond this World Cup putting to bed any doubts that he might retire.
He said: "I will not retire. I want to continue playing as a World Cup champion.
"It's the most beautiful thing there is. Look what it is, it's beautiful, I wanted it a lot. God was going to give it to me, I had a feeling that it was this, we suffered a lot, but we got it.
"Obviously I wanted to close my career with this, I can't ask for anything anymore. Thank God he gave me everything. Closing almost my career like this, it's impressive.
"After this, what will there be? I was able to get the Copa América, World Cup… It came to me almost at the end. I love football, what I do. I enjoy being in the national team, and the group, and I want to continue living a few more games being a world champion.
"I can't wait to be in Argentina to see how crazy that is going to be."