Reactions As Argentina Defeat France To Win World Cup 2022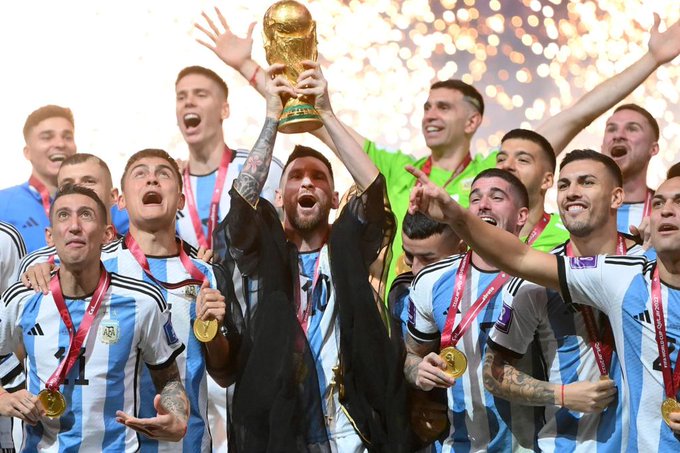 Several reactions have trailed the emergence of Argentina as the winner of the Qatar 2022 World Cup.
Naija News earlier reported that Lionel Messi led Argentina to a stunning World Cup victory, beating defending champions France 4-2 on penalties after an enthralling 3-3 draw over 120 minutes.
In a game that will go down in history as one of the greats, France twice came from behind to send the game to penalties at the Lusail Stadium in Qatar before Argentina won the game on penalties.
However, some netizens took to social media to react to the emergence of Argentina as the winner of the World Cup 2022.
See some of the reactions below.
@SChaudharyINC wrote: "Magnificent Win for @Argentina. Many Congratulations to Argentina for winning the 2022 #FIFAWorldCup Champions Title and also congratulations to France for winning the hearts of every football fan with your outstanding performance."
@DhanrajNathwani wrote: "Messi GOAT 🐐!!! What a match to watch, what a final! Well played France but it was Argentina's day today! #FIFAWorldCup"
@sundarpichai wrote: "One of the greatest games ever. Well played Argentina and France. Jogo Bonito. Nobody deserves it more than #messi, the greatest ever to play the game. What a swansong. #FIFAWorldCup."
@Reba_Monica wrote:" Truly the impact this match had on me!!! One of the best I've ever seen. ARGENTINA, congratulations! France, you put up a great show. Both the rock stars, Messi and Mbappe deserve all the praise! 🤩✨ what a gameeee #FIFAWorldCup #Argentina."
@trending_medic wrote: "I love the way Argentina won. France got 2 penalties, so nobody is saying it was rigged again 😂😂
"Messi also scored twice, including one vital goal from open play, so they can't say he ghosted😂 MVP, Ballon D'or and GOAT debate sealed and buried."
@El_Futbolesque wrote: "What an amazing match, Fair play to France, they fought to the very end and kept coming back, Messi gets his fairy tale ending. Best World Cup Final ever!! Well done Argentina."
@DrTedros wrote: "Fantastic game, amazing commitment, super teamwork. Congratulations #Argentina for winning the #FIFAWorldCup and commiserations to #France."
@mkstalin wrote: "What an absolute humdinger of a match! The never-say-die attitude of #France & #Mbappé's Hat-trick made it one of the best world cup finals ever.
"Congratulations to #Argentina & #GOAT #Messi𓃵 on winning the #FIFAWorldCup. A special word of appreciation must go to Martinez."
@RahulGandhi wrote: "What a beautiful game! Congratulations to Argentina for a thrilling victory. Well played, France. Both Messi & Mbappé played like true champions!
"#FIFAWorldCupFinal shows yet again how sports unite, sans boundaries!"
@Castro1021 wrote: "We will never ever see anything like this again. Congrats Argentina. 🇦🇷 Congrats France. 🇫🇷
"But a HUGE congrats to Lionel Andrés Messi. ❤️"