"Someone Took My Bi**ch"– Lady Allegedly Involved With DJ Cuppy's Fiance Speaks (Video)
The UK influencer, Fiona Michelle who was reportedly in a relationship with DJ Cuppy's fiance, Ryan Taylor prior to his engagement has spoken up.
Naija News recalls that the billionaire daughter and her beau got engaged on stage at Gumball award night in Abu Dhabi some weeks back.
However, days after the very romantic engagement, an alleged video of Ryan and Fiona surfaced online.
In a bid, to clear the air, Cuppy announced on social media that she and her fiance have only been together for 25 days.
In the face of this, Fiona recently took to her TikTok handle where she shared a video that correlates with the current brouhaha.
Captioning the clip, she wrote:
"Waking up to social media on a random Sunday".
The background audio also voiced out the statement; "Someone took my bitch."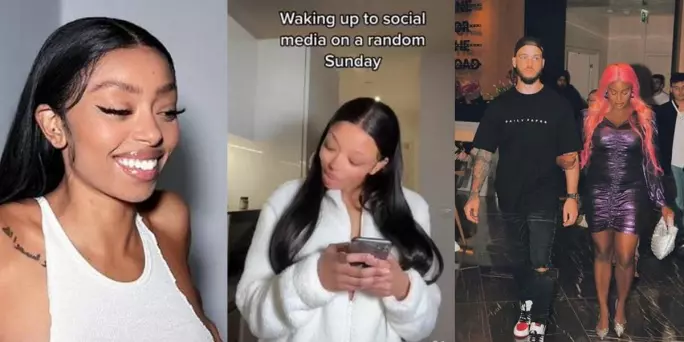 It Was Jazz Not Love – Fapson Speaks On Relationship With Skiibii
Popular Nollywood actress, Dorcas Fapson has said that her relationship with her former lover, Skiibii was due to the influence of 'jazz.' The thespian, while speaking during an interview with media personality Toke Makinwa, lamented that she was tired of being in a relationship with people who are just in it for what they can get.
Fapson disclosed that she learnt a big lesson from the relationship as they had no business dating in the first place.
The actress stated that she has also learnt that not everyone forms friendships and relationships with good intentions.
She explained that when she goes into relationships she does it with an open heart and not for what she might gain from the person.
However, Fapson said that most individuals have ulterior motives for connecting with people.
According to her, friendships and relationship especially those in Lagos are formed with what can be benefitted from the person and not a pure heart. She also stated that she has dated other people in the past and is still cool with them except for Skiibi.
Fapson insisted that she was 'jazzed' in relationship and it was not love. "That was not love sis, it was jazz, my eye done clear," she said.
She added that she has good relationships with both broke and rich people when she has genuine connections with them, but her relationship with the singer has shown her that not everyone has genuine intentions.