Nnamdi Kanu's Elder Brother Petitions International Bodies Over Alleged Torture Of IPOB Leader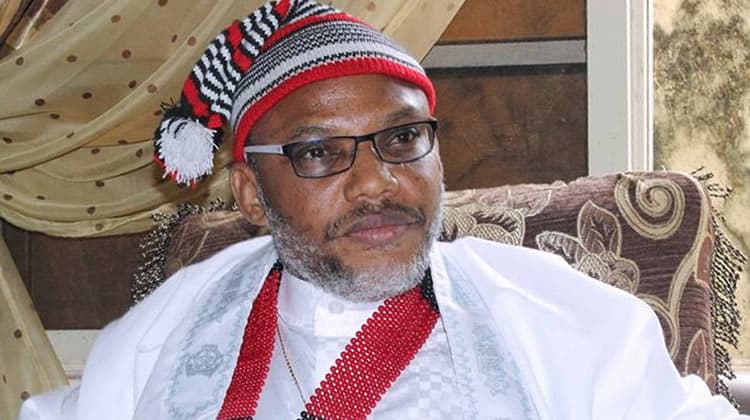 The older brother of the leader of the Indigenous People of Biafra (IOPB), Prince Kanunta Kanu has petitioned some international bodies over what he described as the torture of his brother Nnamdi Kanu.
Naija News reports that Kanunta Kanu raised a petition to the US State Department, UN Human Rights, EU Commission, UK Parliament, Rishi Sunak and the Canadian PM and others about the ill-treatment of detainees in the country.
According to him, refusal to give his brother, who is a detainee with the Department of State Service (DSS) food and medications is like torturing him.
He said, "it's a shame in the 24th century, inmates are starved to death in Nigeria."
His reaction follows a disclosure by Kanu's special counsel, Aloy Ejimakor who took to Twitter to allege that the IPOB leaders said DSS officials have refused to feed him regularly and made provision for his drugs in the last nine days due to unavailability of money.
Naija News reported earlier that Ejimakor, in a tweet on Thursday, said his client made the allegation during his routine visit to the IPOB leader in the DSS custody in Abuja.
Kanu's lawyer stressed that the IPOB leader did not have any meal on Thursday as the operatives of the secret agency said that there was no money to buy food for him.
The lawyer who said he visited Kanu in the company of Prince Emma Kanu and Barrister Nnaemeka Ejiofor, noted that Kanu instructed him to make his ordeal in the DSS custody public.
Kanu's elder brother while faulting the federal government for the development noted that "The deprivation of feeding, medication and sleeping in detention centres are weapons of torture."
He bemoaned that despite all the huge budgets allocated, detainees in the country still suffer from hunger.
Kanunta stated that "That's Nigeria for real. Even detainees in prisons across the country buy their own mattresses to sleep on, yet a huge budget is allocated for the same."
However, it was also gathered that Ejimakor and Kanu's family have concluded plans to raise more than one million naira for Kanu's feeding and medication in the DSS custody in Abuja.
Earlier, Naija News reported that the IPOB leader's younger brother, Prince Emma Kanu had disclosed that plans were underway to raise a million naira for Kanu's welfare following the new development.