Remove All Obstacles Affecting Supply And Use Of Arms By Amotekun – Afenifere Group Calls On FG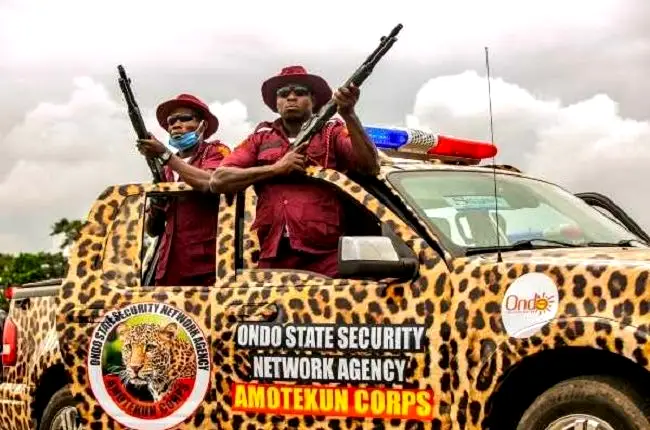 A call has gone out to the Federal Government to ensure that the supply and use of arms by the Western Nigeria Security Network, codenamed the Amotekun corps, is not stopped.
Naija News reports that Afenifere Renewal Group, who made the call in Lagos, said it has become necessary for the federal government to remove all obstacles affecting the supply and use of arms by the security outfit.
The group during its end-of-year deliberation told newsmen in Lagos State that except the police force, who may require a constitutional amendment, all other recommendations are within the purview of administrative reform.
The call comes at the time when the insecurity ravaging the country has taken a different level.
Amotekun is a security outfit based in all the six southeast states operating like a state policing apparatus to curb insecurity in the region.
The chairman of the group, Olawale Oshun noted that after extensive consultation and deliberations, the group has proposed an immediate decentralisation of the security apparatus in the country, which they believe can be actualised under this current administration.
He advanced that "We note with dismay the sustained insurgencies across the length and breadth of the country, the growing events of banditry and terrorism and the need to further strengthen the security agencies to effectively control and contain the situation across the country.
"Even if the national political leadership has an aversion to confronting the insecurity situation head-on, the Yoruba leadership should not suffer same insomnia since their productive peasantry, farmers and artisans bear the burden much more than other Nigerians.
"After extensive consultation and deliberations, we propose an immediate decentralisation of the security apparatus in the country. Multi-level policing, characterised by federating unit police structures, must replace the present unitary policing structure in our country, according to those who desire it.
"We contend that except the police force, which may require a constitutional amendment, all other recommendations are within the purview of administrative reform. As the Governor's Forum has acceded to multilevel policing, even that can be accomplished within the life of this present Buhari government. President Buhari should remove all obstacles regarding the supply and use of arms by the Amotekun security agency."