Senate Confirms Adamu, Ahmad As CBN Deputy Governors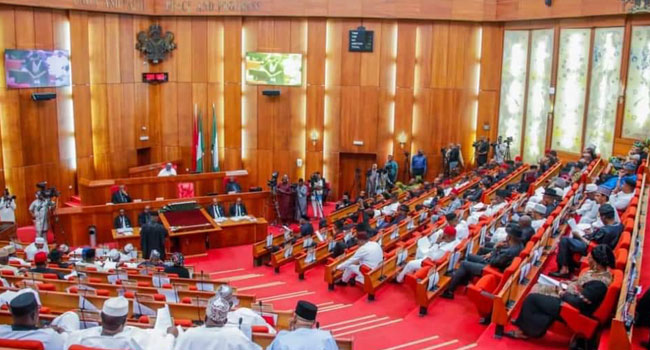 The Nigerian Senate, on Wednesday, confirmed Edward Lametek Adamu as the Deputy Governor for Corporate Services of the Central Bank of Nigeria (CBN).
The Red Chamber also confirmed the reappointment of Aisha Ndanusa Ahmad as the CBN Deputy Governor, Financial System Stability.
Adamu and Ahmad's confirmation by the Senate was a sequel to the presentation and consideration of the report of the Committee on Banking, Insurance, and other Financial Institutions, on the floor of the Senate.
The Chairman of the Committee, Senator Uba Sani (APC – Kaduna Central), said they met the requirements expected of them during the screening process.
While appearing before the Committee, Sani said the nominees answered questions on the country's cashless and withdrawal limit policies.
After the presentation, the Senate approved the recommendations of the committee when it was put to a voice vote by the Deputy Senate President, Ovie Omo-Agege.
Recall that President Muhammadu Buhari had requested the National Assembly to screen Adamu and Ahmad as deputy governors of the apex bank.
As contained in a letter read on the floor during plenary by Senate President Ahmad Lawan, Buhari had asked the lawmakers to confirm the nominees to serve for a second and final term at the apex bank as deputy governors.
Naija News reports that Aisha was first confirmed for the position in 2018 after a screening by the senate.
She is responsible for leading the effort to promote a sound financial system in Nigeria; one of the principal objects of the Bank as specified within the CBN Act.
Before the deputy governorship role, Aisha was the Executive Director of Retail Banking at Diamond Bank PLC and had 22 years of experience as a corporate executive and finance expert.
On the other hand, Adamu was first appointed for the CBN deputy governorship role in 2018. He has spent 25 years in the apex bank.
He began his career with the Unified Public Service (UPS) in 1983 before joining the apex bank.