Withdrawal Limit: 'No One Expected CBN To Work With EFCC, Emefiele Going Beyond His Mandate'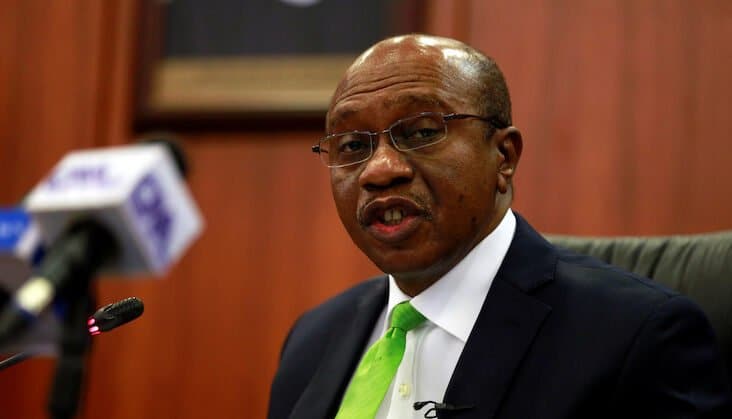 A member of the House of Representatives, Mark Gbillah has berated the governor Central Bank of Nigeria (CBN), Godwin Emefiele, for the  introduction of the new withdrawal limits.
According to the lawmaker representing Gwer East/Gwer West Federal Constituency of Benue State, Emefiele is going beyond his mandate by introducing the cash withdrawal limit policy.
Naija News reports that the CBN policy released on Tuesday restricts over-the-counter cash withdrawal by individuals and organisations to N100,000 and N500,000, respectively, per week.
According to a memo signed by the CBN's Director of Banking Supervision, Haruna Mustafa, the policy limits cash withdrawals via point-of-sale machines and automated teller machines to N20,000 daily and N100,000 weekly, respectively.
The new directive, which takes effect from January 9, 2023, stipulates that withdrawals above the thresholds would attract processing fees of five per cent and 10 per cent, respectively, for individuals and corporate entities going forward.
Only N200 and lower denominations will be loaded into their ATMs and restricted withdrawal to N20, 000 per day from ATMs.
But speaking in an interview with Channels TV's Politics Today on Thursday, Gbilah said that nobody expected the CBN to do the work of the Economic and Financial Crimes Commissiom (EFCC).
He said: "There are allegations in that regard that this policy intends to curb vote-buying and the amount of money in circulation; but like prof (Frank Ozoh, an economist) was saying earlier, we don't expect the CBN to do the work of the EFCC; we don't expect such kind of policy trying to control and curb issues that we have institutions to deal with. We think that he (CBN governor) is going beyond his mandate. That is what I personally think.
"So we have not heard from the CBN governor; but it's a draconian way which has been implemented and we are complaining about. He didn't brief anybody."
On his part, Professor Frank Ozoh of Economics at the Federal University, Ndufu, said that the CBN had goofed on re-printing of naira.
Ozoh said, "This policy is highly inordinate giving the environment which we are in. The CBN failed to do imperial studies of what should be the quantum of cash required to sustain some critical level of economic in the rural and urban communities. It is just like they goofed on re-printing of naira. He goofed."