New CBN Cash Withdrawal Policy Inhumane – Bode George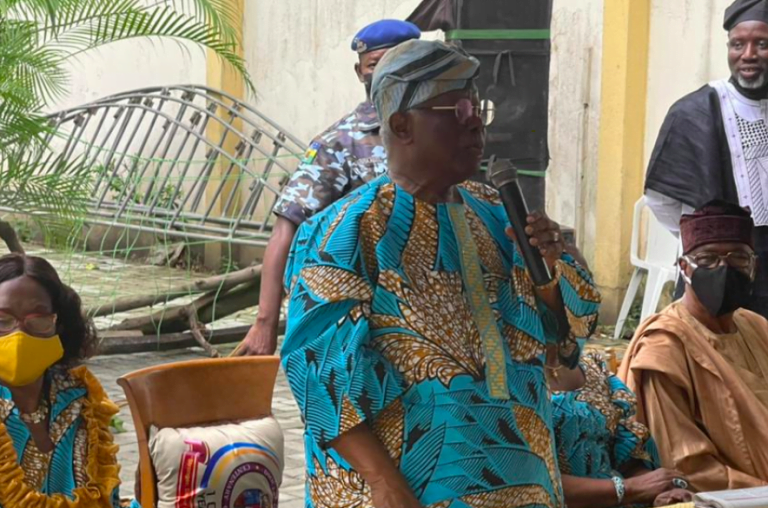 A chieftain of the Peoples Democratic Party (PDP), Chief Olabode George, has berated the Central Bank of Nigeria (CBN) over its recent cash withdrawal limit policy.
The former PDP Deputy National Chairman asserted that the new withdrawal policy of the apex bank is inhumane, too sudden, and will bring more hardship to Nigerians.
George said this on Thursday at a reception in Lagos organised in his honour by members of his party to felicitate with him on the award bestowed on him by Governor Nyesom Wike of Rivers State.
The PDP chieftain added the apex bank's policy on the currency rebranding will only further destroy the economy of the nation and lead to fiscal and economic suicide.
George, therefore, asked President Muhammadu Buhari to wade into the rudderless monetary policy of the apex bank before it further ruin the economy of Nigeria.
He said: "To come up with the latest CBN pronouncement on daily cash transactions, with the present ugly state of our everyday life of epileptic power supply, high rate youth unemployment, and sundry social challenges can only lead to one thing: fiscal and economic suicide.
"All over the country, from Sokoto to Onitsha, to Jankara market here in Lagos, the people will only be more burdened with such policy as our economy is presently cash based in outlook.
"The CBN policy is just too sudden. It will rather make the people sink deeper into misery and poverty. I make bold to say that the country cannot cope with what I foresee as an anti-people policy.
"80 percent of businesses are still cash-based, so it is only instructive for Mr. President to wade into this rudderless monetary policy of the CBN.''
Naija News recalls that the CBN policy released on Tuesday restricts over-the-counter cash withdrawal by individuals and organisations to N100,000 and N500,000, respectively, per week.
According to a memo signed Tuesday by the CBN's Director of Banking Supervision, Haruna Mustafa, the policy limits cash withdrawals via point-of-sale machines and automated teller machines to N20,000 daily and N100,000 weekly, respectively.
The new directive, which takes effect from January 9, 2023, stipulates that withdrawals above the thresholds would attract processing fees of five percent and 10 percent, respectively, for individuals and corporate entities going forward.
According to the apex bank, only N200 and lower denominations will be loaded into their ATMs and restricted withdrawal to N20, 000 per day from ATMs.