Military Speaks On Alleged Secret Mass Abortion On Victims Of Terrorist Attacks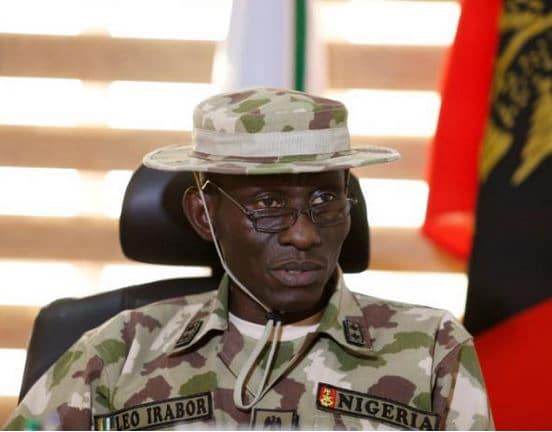 The Nigerian Army has distanced itself from reports of secretly aborting pregnancies of victims of terrorist attacks in the Northeast.
The Chief of Defence Staff, Lucky Irabor on Thursday described the report as outright nonsense, adding that it is not true.
Naija News had earlier reported that an international news agency, Reuters in an investigation accused the military of carrying out a secret mass abortion on victims of terrorist attacks in the north-east.
The news agency claimed that the Nigerian Army since 2013 has carried out secret abortions in the Northeast.
The investigation carried out by Reuters stated that at least 10,000 pregnancies among women and girls were terminated.
The report further stated that pregnant victims who resisted were either beaten or drugged into compliance.
Irabor on Thursday, however, denied the report while speaking at the 61st session of the State House Ministerial briefing organised by the Presidential Communications Team at the Aso Rock Villa, Abuja.
The defence chief said, "That is outright nonsense. Their allusion is news to me. It never occurred. I never saw anything like that from Maiduguri down to Maimalamari Cantonment where I lived that is a major hospital for our personnel and their family. I am disappointed, to say the least. So it is not true.
"I was informed by the Director of Defense Information about a mail from Reuters requesting an interview with me. And he gave me a letter written by one Alexander making allegations that have now been published by Reuters.
"I simply said he should go back to the person and answer their questions but I'm not going to dignify such a report.
"You're saying the military since 2013 has been engaged in a planned abortion programme and he said that is part of the government's design. In that letter, he said that 12,000 abortions have been conducted. But in the published report, we saw 'at least 10,000'."