Reps Passes Nigeria Peace Corps Bill For The Second Time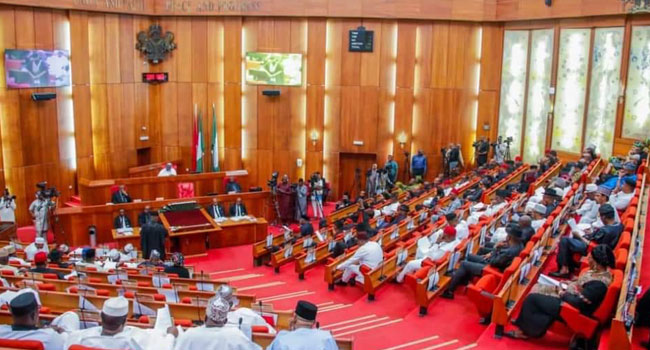 The two chambers of the National Assembly on Wednesday (today) passed the Nigerian Peace Corps (NPC) establishment bill for the second time.
With the new development, the clerk of the National Assembly is expected to transmit the bill to President Muhammadu Buhari for his assent.
If passed into law, the bill, among others, seeks to establish the Nigerian Peace Corps as a body charged with the responsibilities to develop, empower and provide gainful employment for youths, facilitate peace, volunteerism, community services, neighbourhood watch and nation-building.
Also, the bill would give statutory backing to the existing Peace Corps of Nigeria, established over two decades ago under the National Commandant, Professor Dickson Ameh Akoh.
Naija News understands that due to the value-driven programmes of the corps, which aimed at the socio-economic empowerment of the Nigerian youths and its onerous contributions to peace-building and advocacy, the United Nations in 2011 accorded the organization a Special Consultative Status while the African Union in 2016 accorded the same status to the organization, thus, making it a member of the Social and Economic Councils of both the United Nations and the African Union.
Records indicate that the organisation now has a structured network of offices across the 36 States of the Federation and the Federal Capital Territory FCT with a membership strength of over 187,000, comprising both regular staff and volunteers.
For the landmark achievements and accomplishments of the organization thus far, the corps and its national commandant have received over 110 awards nationally and internationally.
During a press briefing on Wednesday, Akoh thanked the Senate President, Ahmad Lawan and Speaker of the House of Representatives, Femi Gbajabiamila, for considering the bill worthy of passage thereby doing justice to it.
He also thanked members of the two chambers of the National Assembly for the sense of patriotism displayed in ensuring that the bill saw the light of day.
He pleaded with President Muhammadu Buhari to assent to the bill this time as a lasting legacy of his government and a befitting parting gift to the Nigerian youth.
Akoh explained that all the grey areas which prevented the assent in 2016 had been cleaned up, adding that the corps would not have any conflict with any of the existing security agencies.
"The best gift to the Nigerian youth from President Buhari is to give assent to the Bill and as a youth-friendly President, we are deeply optimistic that Mr President will do the needful this time around.
"No amount of resources committed to youth development in this country, especially in the face of insecurity, poverty and lack of employment, is a waste. Peace Corps is not just being conceived, it has offices all over the country," Akoh said.