Chatham House: Tinubu Only Advertised Incapacity – Melaye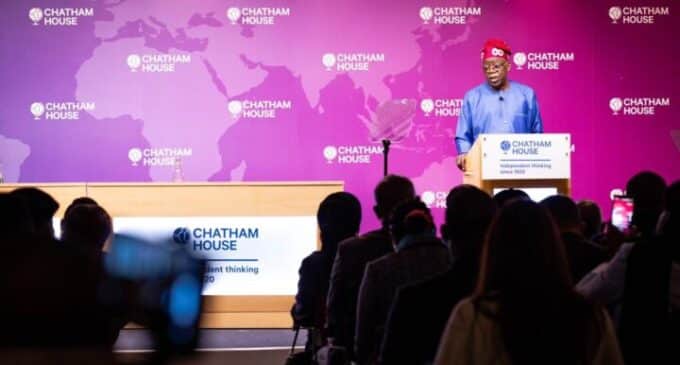 The Spokesman of the Peoples Democratic Party (PDP) Presidential Campaign Organisation, Dino Melaye, has said Bola Tinubu of the All Progressives Congress (APC) is incompetent to lead Nigeria in 2023.
The former Senator stated this while reacting to Tinubu's appearance at the Chatham House in London, the United Kingdom on Monday.
The APC Presidential hopeful spoke to the Chatham House audience on his agenda for the country if elected as President in 2023 and also answered questions directed at him through some members of his campaign team.
In a statement on Tuesday, Melaye said the APC standard bearer only advertised incapacity, and inefficiency at the London event, adding his performance was embarrassing.
The PDP chieftain said that even when a direct responsibility was placed on him, Tinubu delegated some members of his team to answer questions on his behalf.
He said: "For nearly all his life, Tinubu has lived in disguise and in the shadows of others. There are contentions on whether the name he bears now belongs to him or a woman. There are also interrogations on his certificate, his crime record, and a great hue of inconsistencies.
"It was this same pattern that played out in London, where he chose to assume the names of Nasiru, Dele, Femi, and Ben before a live international audience, who would not only have pitied the ostrich conduct of Tinubu but saddened by his coterie of defenders and power entrepreneurs, who chose to swim in shame with a calamitous candidate.
"Tinubu spoke about working as a team. Nothing typifies a team more than a football team, where 11 players form a team. In each team, there's always a captain. One of the formalities for starting a match is the tossing of a coin to decide the side of placement.
"During this ritual, the captain of each side steps forward to pick one side of a coin. That is team leadership. Further to this, there are ladders of leadership. First, a leader must be able to lead himself before leading teams, leaders, and institutions. What was required of Tinubu at Chatham House was self-leadership, but as usual, he thought he could circumvent the process. He failed."