Knocks As Tinubu Assigns El-Rufai, Ayade To Answer Questions At Chatham House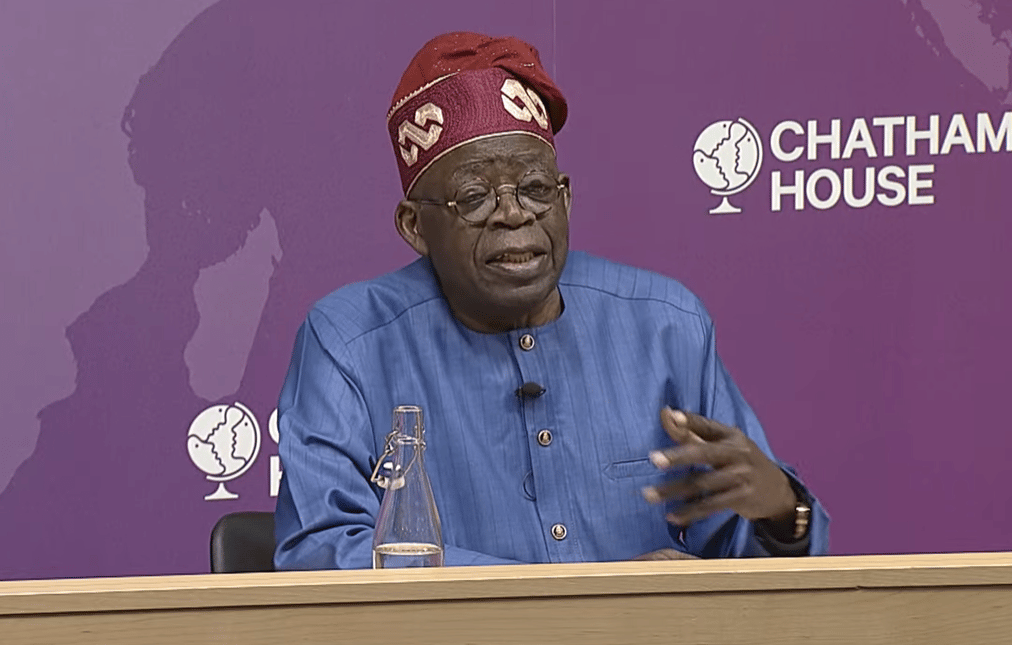 The All Progressives Congress (APC) presidential candidate, Bola Tinubu, has sparked mixed reactions after assigning members of his team to answer some of the questions he was asked at the Chatham House.
Naija News earlier reported that Tinubu spoke on Monday, December 5, 2022, at the Chatham House in London, United Kingdom.
After delivering his speech, Tinubu was questioned by the audience on issues regarding security, economic and foreign policy.
In response to the questions, the APC flagbearer surprisingly picked former Lagos State Commissioner for Information, Dele Alake, Kaduna State Governor, Nasir El-Rufai, and Cross River State Governor, Ben Ayade to answer the questions.
Tinubu's action sparked mixed reactions from many Nigerians, while some of his supporters claimed he is having teamwork and inclusiveness in his party, others claimed it was wrong for Tinubu to delegate questions thrown at him to other members of the party.
@BwalaDaniel wrote: "Chatham house show of shame. You want to be the president but avoiding answering questions, instead you are re-directing the answers to El-Rufai, Alake and co. Nigerians want to be governed by a person not a robot who cannot exercise independent thought in answering questions"
@adamugarba wrote: "My respect for Tinubu keep increasing day after day. Tinubu is the most prepared for the job of the Presidency. He is articulating economic, security and foreign policy from his heart. I'm with Asiwaju any day any time. Nigeria cannot afford to miss this treasure in 2023″
@zyxwvutswal wrote: "Teamwork! The incoming President. God bless him and God bless Nigeria"
@VictorIsrael_ wrote: "Omo! They asked Tinubu questions and he directed El-Rufai and Ayade to answer the questions. He said he believes in teamship. Imagine asking Peter Obi a question on national TV and he directs Kenneth Okonkwo to answer it. That's how ridiculous It sounded. Nigerians open your eyes"
@Fakanlu_John wrote: "He did the right thing, all Obidents should show respect for elders"
@FemiOyedun1 wrote: "For every question directed to Apc presidential candidate at the Chatham House. Dele Alake, El Rufai, and Ben Ayade are the ones answering, he even eyes Sanwoolu to answer a certain question. He said it was teamwork"
@chude__ wrote: "Tinubu was asked series of questions at Chatham house & he directed it to Dele Alake, El-Rufai & Ayade. A presidential candidate that cannot answer questions on how he will solve Nigeria's problems?"
@Princeujay wrote: "Dele Alake, El Rufai and Ben Ayade had to borrow Tinubu their brains to answer questions at the Chatham House in London. National humiliation and shame to APC to have a brain dead man as a Presidential candidate"