2023: Five Takeaway From Tinubu's Presentation At Chatham House In London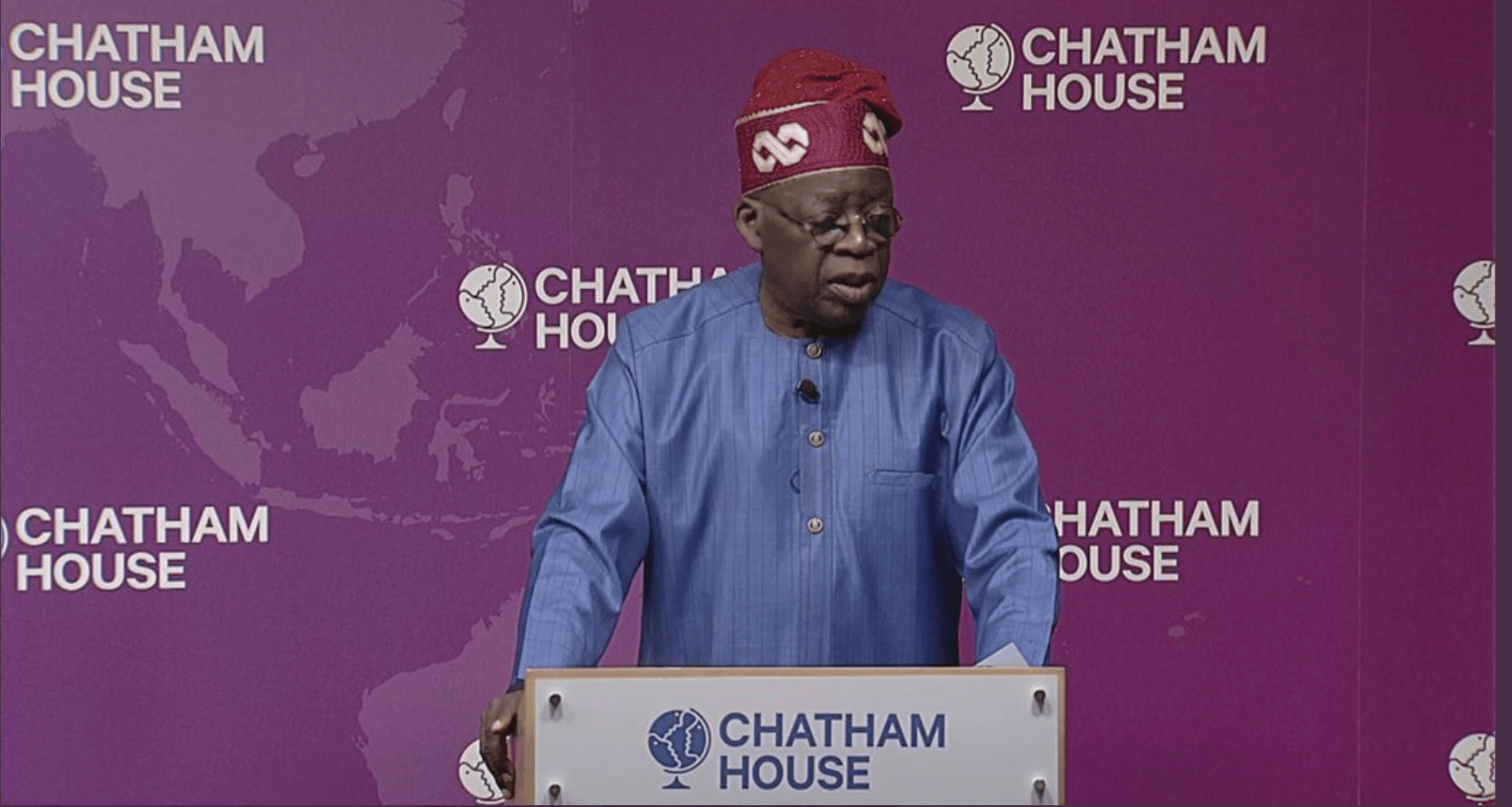 The presidential candidate of the All Progressives Congress (APC), Asiwaju Bola Ahmed Tinubu, on Monday, December 5, spoke on the topic: 'Nigeria's 2023 Elections: Security & Economic Development and Its Foreign Policy Imperatives'.
Naija News reports that the former Governor of Lagos State and 2023 presidential hopeful gave some nuggets during his presentation at Chatham House in London, the United Kingdom, on Monday afternoon.
Tinubu, surrounded by controversies not limited to his paternity, academic qualification, and source of income, defended himself at the international gathering despite avoiding a town hall meeting with other presidential candidates in Nigeria, where he is hoping to lead.
The APC presidential flagbearer, however, made five takeaway points at Chatham while revealing his plans for Nigeria and foreign policy imperatives ahead of the 2023 general elections.
Below Are Five Takeaway From Tinubu's Presentation In London:
1- Almajiri System Reformation – Tinubu vowed on Monday that if elected as the next Nigerian leader, he would reform the country's Almajiri system.
Naija News reports Almajiri is a system of Islamic education practised in the Northern part of the country where in most cases, parents let their male children (teenagers) leave their homes to seek Islamic knowledge.
However, the Almajiri has been widely criticised by many leaders as the boys are visibly seen on the streets of all major cities in the North and across states littering motor parks, ATM centres, hotels, brothels, gridlocks and even religious places to beg for alms.
At the Chatham House in London today, Tinubu promised to make the Almajiri system conventional and make the students productive.
He stressed that he would engage the youth to develop technology language independently. He also said there would be student loans for those who couldn't afford their tuition, adding that there would be a conducive template for youths to develop the technology.
2- Clarification On Date Of Birth/Paternity – Tinubu, while addressing the controversies surrounding his age, school and record in the private sector, reiterated that he was born on March 29, 1952, adding that those who disputed claims that he was from the Tinubu family could request for a DNA test.
He insisted that he remains a proper member of the Tinubu family, faulting his counterparts from other political parties for criticizing his identity at any opportunity.
"I'm not claiming another father, I am Tinubu and Tinubu proper. If they want a DNA, they could as well request from us. One of them has even been accused of not being a Nigerian citizen, I didn't touch that area," Tinubu said.
3- Academic And Private Sector Records – Tinubu announced on the televised programme that he had just received his original certificate from Chicago State University, just as he stated that Mobile Oil attested to his outstanding record.
"I've had a very good record in life. My record is consistent in the university they questioned. They've now confessed that they wasted their money and their time. The record is there, and the transcript is there showing March 1952," he said.
"Deloitte trained me as an accountant. Mobile Oil has attested to my outstanding record. I got to the pinnacle of my career in the private sector. Who among them can brag about that?
"Yes, you want to wrestle with the pig, you've got to live with the dirt. That's what I'm doing. I got into politics knowing fully well that it is muddy water. Smog will come, and you will have to live with the dirt and make sure you are upright to finish the job," Tinubu noted.
4- Fight Against Electoral Malpractice – Tinubu said in his speech at Chatham House that as someone who has been in the opposition for ages, he has continued to fight against electoral malpractice.
He said that the outcome of the forthcoming election should be based on people's will and that nobody should be intimidated to make an otherwise choice.
The APC candidate said: "Having spent most of my career in political opposition, I have long fought against electoral malpractice, any attempt to extinguish the legitimacy of voters' choice. I will continue to do so, I promise!"
Tinubu urged all contestants in the presidential race to do the same. He charged them to let the people's sovereign will decide the part of the nation, stressing the need to let the election be determined by voters, making their choice freely rather than intimidated.
5- Oil Theft, Terrorism, Separatism And Banditry In Nigeria – Represented by the Governor of Kaduna State, Malam Nasir El-Rufai, Tinubu expressed concerns on challenges bedevilling Nigeria.
Fielding questions on security and other worrisome challenges, El-Rufai said banditry, terrorism, separatism, and oil theft in Nigeria require a new approach, including increasing the number of security operatives.
"The numbers must change, and the Bola Tinubu administration already has a blueprint which is embedded in our action plan to address this. We will scale up the numbers of the armed forces. We'll ramp up the numbers, training, and equipment," the Kaduna governor said.
Meanwhile, the Director of Strategic Communication of the APC Presidential Campaign Council, Dele Alake, had defended Tinubu when asked to speak on his plans to lift Nigerians out of poverty if elected.
"The key to his policy for increasing economic growth is to enable the private sector to make the investment that will increase productivity, grow the economy, create the jobs, and reduce poverty," he said.