Osun Assembly Speaker Visits Adeleke In Ede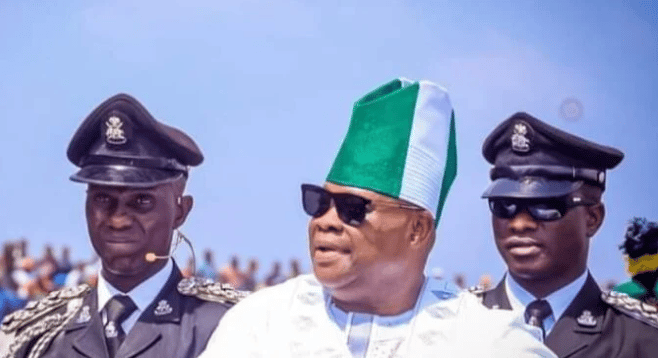 The Speaker of the Osun State House of Assembly, Timothy Owoeye, has paid a courtesy visit to Governor Ademola Adeleke, in his county home at Ede, on Tuesday.
Receiving the speaker, governor Adeleke said he was ready to work closely with the state legislature to deliver on his administration's five-point agenda.
The governor, who described himself as a man with passion for the legislature, restated his readiness to work with the lawmakers, and commended the excellent partnership between the two arms of government in the state.
In his remarks, the speaker assured the governor of the readiness of the legislature to support his administration to deliver on its promises to the people of the state.
After their remarks, the governor and the Speaker met behind closed doors over the former's inaugural speech and the Executive Orders.
Recall that the state assembly, on Monday, frowned on the decision of the governor to rename the state from "State of Osun" to Osun State.
The Assembly argued that the anthem, crest and flag of the state was an enactment of a law assented to on December 18, 2012, and no person can exact force to change it.
The lawmakers further said that the state will continue to be described as the "State of Osun"  and "Ipinle Omulabi" (State of the Virtuous).