2023: Suspected Split In Mimiko's Camp, As Loyalists Attend PDP Rally In Ondo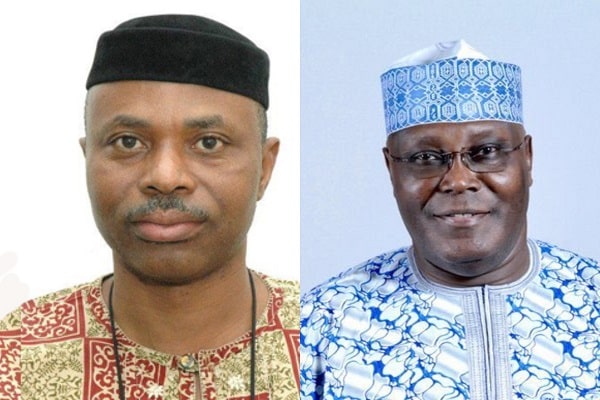 Some loyalists of the former Ondo Governor, Dr Olusegun Mimiko have reportedly betrayed him by attending the People Democratic Party (PDP) campaign rally that was held on Wednesday in Akure the Ondo State capital.
Naija News gathered that the former governor who is a PDP chieftain was absent at the event, however, some of his loyalists were seen at the rally to show support for the party's flag bearer, Atiku Abubakar.
Some of Mimiko's stalwarts who were seen at the event include the former Deputy Governor, Agboola Ajayi, a former Chairman of the PDP, Engr. Clement Faboyede and others who had defected from the Zenith Labour Party.
Speculations are that the appearance of some of Mimiko's allies at the PDP rally today might indicate there is a split in his camp over support for Atiku.
The former Governor is a member of the Integrity Group of the PDP G5 Governors, led by the Rivers State Governor, Nyesom Wike, who has continued to clamour for the resignation of the party's National Chairman Iyorchia Ayu for a person of southern extraction.
It would be recalled that in October Mimiko rejected to be part of the Ondo PDP Presidential Campaign Council list.
In a statement then, the former governor was reported to have noted that "For the avoidance of doubt and to set the record straight, Dr Mimiko is unwavering in his commitment to the principle of equity, fairness and justice through which he believes a credible push for a PDP victory is possible.
"He fully subscribes to the agitation by his colleagues and other stakeholders in PDP and the generality of Nigerians that the PDP structure must reflect Nigeria's diversity if it genuinely wants to unify a visibly divided country."
Naija News however gathered that when Mimiko's media aide, John Paul Akinduro was contacted to react to the situation, he told Nation that he was not aware of any PDP rally in the state.
Meanwhile, at the rally, Atiku pledged to fix all federal roads linking Ondo State to other states, if elected as president next year.
The PDP flag bearer revealed that his decision to start his Southwest campaign in Ondo State is a move to appreciate the people of the state for their massive votes for him in 2019.
He submitted that "We will never forget you. We will set aside enough money to empower the youths. That is why in our policy document, we said we will.set aside $10bn for the youths.
"We will provide more funding to education. The APC does not care about your future."
Ayu also urged the Ondo PDP members to be united to sustain its 2019 feat, adding that a return of the party to power at the national level would return the party to power in Ondo State.
The PDP national chairman observed that "Ondo is a PDP state. PDP is coming back to rule in Ondo State. We, as a party, must unify. All of you must work together to give us the highest vote. The return of the PDP at the national level is a return of the PDP at the state level. Atiku is your in-law. The country is in a bad shape. You need an experienced leader, someone who has done it before. He will unify the country and make life better for all of you."