Malami Asked To Prosecute Tinubu Over Alleged Drug Trafficking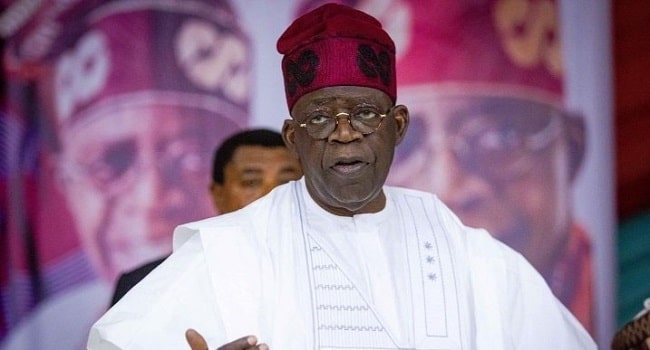 The Attorney General of the Federation (AGF), Abubakar Malami, has been asked to prosecute the presidential candidate of the All Progressives Congress (APC), Bola Tinubu, for alleged drug trafficking and money laundering.
Naija News reports that a group, the Centre for Reform and Advocacy (CRA), petitioned Malami to prosecute the former Governor of Lagos State in a letter dated November 14, 2022.
According to the letter signed by its Legal Adviser, Kalu Kalu Agu, the group issued a five-day ultimatum to the Minister of Justice to comply with its demands or face legal action.
The group said its petition followed the release of a Certified True Copy (CTC) of the indictment and evidence of forfeiture of $460,000 for drugs trafficking and money laundering by a United States Court involving Tinubu.
It further urged Malami to direct the National Drug Law Enforcement Agency (NDLEA) to investigate and take necessary legal actions against the APC presidential candidate.
The group said it had written a correspondence tagged annexure "A" to the NDLEA, where it asked the agency's chairman to invoke Section 18 of the Money Laundering (Prevention and Prohibition) Act, 2022, against Tinubu for his involvement in the alleged crime.
It warned that unless the agency heed to this demand, it would after five working days take appropriate legal steps to compel compliance with the demand in annexure "A" and the one herein made.
The letter reads in part; "It is our honour and privilege and in total fidelity to our objective that we, respectfully, call your attention to the letter attached hereto as annexure "A".
"As evident ex facie the letter we, on the 8th day of November 2022 served annexure "A" on the Chairman of NDLEA and therein we demanded the prosecution of Senator Bola Ahmed Tinubu under Section 18 of the Money Laundering (Prevention and Prohibition) Act, 2022, for his involvement in Narcotics Trafficking and Money Laundering.
"In line with the above, and in consonance with the utmost need to ensure that Nigeria does not end up a pariah in the comity of nations for condoning narcotics dealings and allied offences we hereby demand that you direct the National Drug Law Enforcement Agency (NDLEA) to yield to our demand in annexure 'A'."