2023: Atiku Not Involved In Drug Trafficking, Document Forgery – Aide Slams Tinubu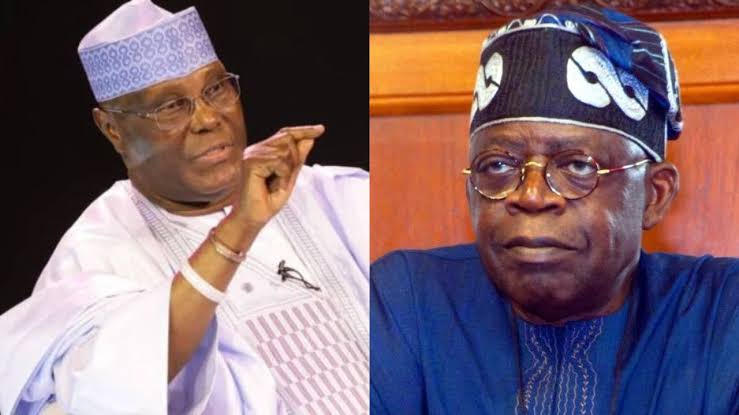 Atiku Abubakar's aide, Paul Ibe has slammed the All Progressives Congress (APC) presidential candidate, Asiwaju Bola Ahmed Tinubu, over his comment earlier in Delta State.
Recall that Tinubu on Friday during his electioneering trip to Delta State took a swipe at Atiku for contesting several times in his quest to become Nigeria's president.
"There are few of us left running, one says he is Atiku, how many times has he been running? He is always on the run and he is tired. Tell him to go and sit down. Enough is enough," Tinubu had said.
Responding to the former Governor of Lagos State's statement, Ibe said the Peoples Democratic Party (PDP) presidential candidate is not like the APC flag-bearer who is involved in drug trafficking, money laundering, forgery, and perjury.
Ibe reiterated that Atiku is not running for the presidency in the 2023 elections with any of such cases and allegations.
According to him, those are the territories of Tinubu. Ibe said the Wazirin Adamawa is running to make Nigeria better for Nigerians.
Naija News understands that Ibe said this during a telephone conversation with Channels Television on Saturday, November 26, 2022.
He stressed that his principal is only concerned about recovering Nigeria for the good of all.
"It's only in this country that you put people who are sane in the same environment with mental people. It is really unfortunate.
"Let me start with where Atiku is not running to. He is not running to drug trafficking and money laundering. That's Asiwaju's territory. He is not running to forgery and perjury, forging documents and all. He is not running there. He is not running to a shaded past, early stages of life that are unknown. He is not running to hide's medical state," Ibe said.
Speaking further, Ibe said Atiku has enough good reasons to contest in the 2023 presidential polls.
"He is running to make Nigeria better for Nigerians; he is running to use his experience to transform and recover Nigeria for the good of all. He is running to unify the country that has been divided by over seven years of a clueless and incompetent APC administration foisted on us by characters like Tinubu. That's why he is running," he added.
Naija News recalls that after serving as the Vice President of Nigeria from 1999-2007, Atiku contested on the platform of the Action Congress (AC) which had Tinubu at that time.
He also aspired in 2011 and 2014 but did not get his party's ticket.
In 2019 when he got the ticket of the PDP, he lost to the incumbent President Muhammadu Buhari.