'Go And Get Your 'APV' To Vote For Me' – Tinubu Gaffe At Lagos Campaign (Video)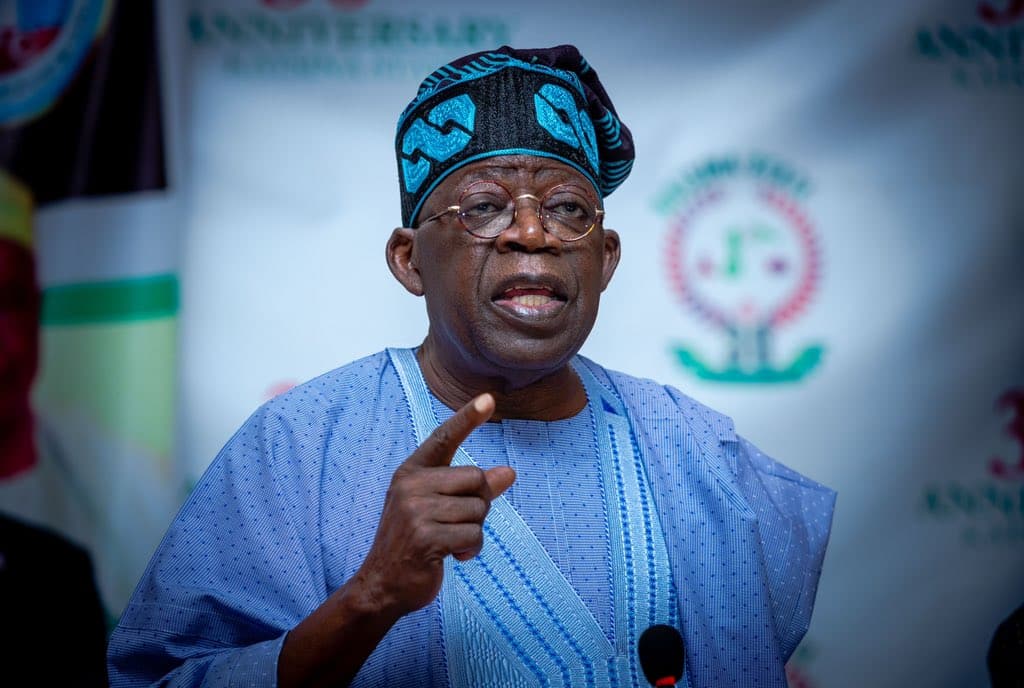 The All Progressives Congress (APC) presidential candidate, Bola Tinubu, has sparked reactions online over a mistake at the party's campaign in Lagos.
Naija News earlier reported that prominent persons and stakeholders in APC stormed the Teslim Balogun Stadium, Lagos State on Saturday, November 26, 2022, for the presidential campaign of Tinubu and his running mate, Kashim Shettima.
Tight security had been put in place to keep supporters and members of the ruling party secure during the event.
One of the footage that emerged online shows the moment, the former Governor of Lagos made an embarrassing statement while urging Lagosians to vote for him.
In the video, Tinubu repeatedly asked the mammoth crowd if they love him and if they do, they should get their 'APV, APC' to vote for him.
Tinubu in the video had wanted to mention PVC before he made the mistake.
This generated reactions from many Nigerians as people claim that the consistent blunder is a pointer that Tinubu is suffering from dementia.
thevc_store wrote: "This is no longer funny…God!!! If you are reading this and still supporting APC , na God go judge you"
benitaowoh wrote: "This man amnesia no de curable based on old age and his wicked ways, tinubu rest ijn"
better_currency wrote: "This is no longer a mistake this man is not mentally and physically fit but they are just pushing him and some sane youths are still supporting him"
jeneefar07 wrote: "Come on! This isn't even funny anymore! BAT associates and fan club, Pls this dude is not doing so well health wise!! Don't u guys care enough about him to stop him from going through all these? For what???? Power??? Is it really worth it!!! Your kids and wife see this and they are ok wt it???? Don't they care about you oga tinubu at all???!!!! Haba"
aliuyusufola wrote: "Ooooh God kindly help us with this coming election we don't want this God, fine we will vote but still help us let the right person enter.make person know go use mistake sell Nigeria to Gambia"
erobert133 wrote: "Still think his not a dementia patient ? Still think his strong enough to rule over 200m Nigerians ? You can see it's the fourth time his missed/picked wrong words whatever you stand to gain from supporting APc won't last the suffering you'll get the next 4-8 years be wise"
ego_oyibo29 wrote: "Those BAt urchins will soon come and justify this and say, APV means All Progressives Voters Card. Ndi ara"
weightloss_abuja wrote: "Definitely if he wins, he won't be the one to rule, someone will do it on his behalf for sure"
aebukha wrote: "This is no longer funny. God please may this affliction never rule us"