Fuel Scarcity: Marketers Warn Nigerians Ahead Of Tougher Festive Period, Fuel Now Sells Between N200 And N270 Per Litre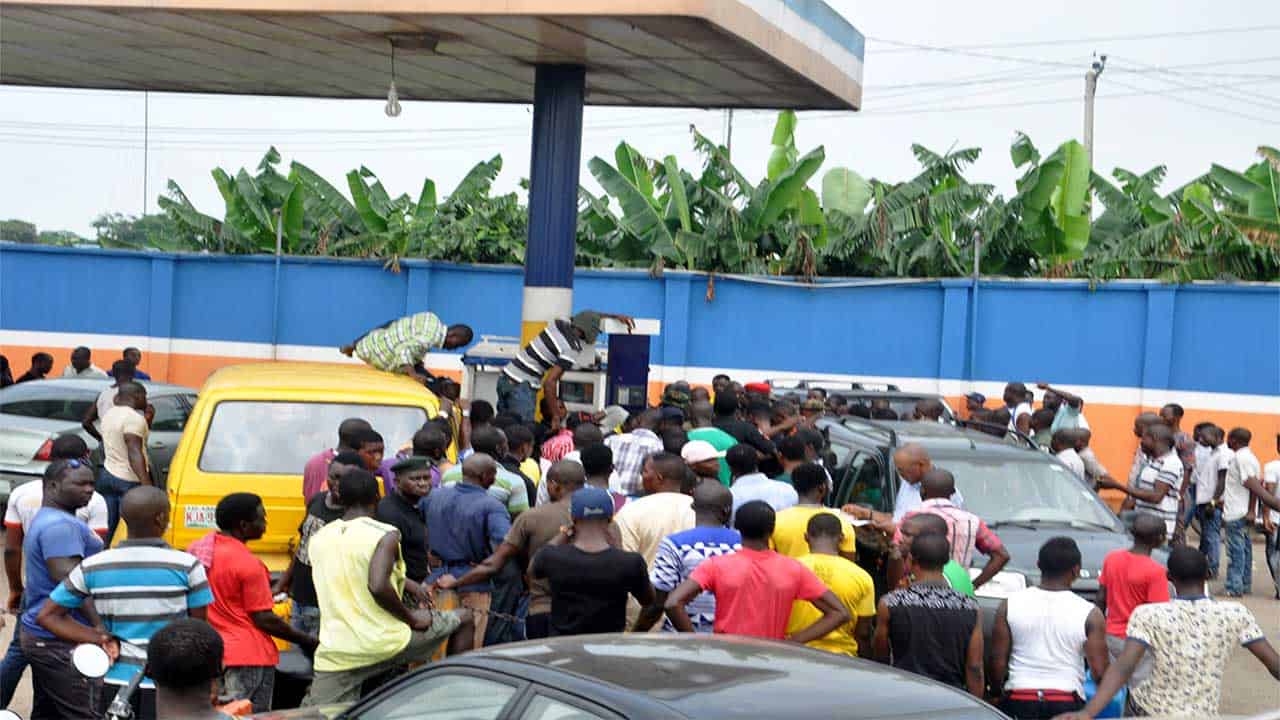 Oil marketers have warned Nigerians to braise up to tougher times as the fuel scarcity is going to bite harder in the days ahead, especially with the festive period, which is mostly characterised by travelling.
Queues have been reported to have resurfaced in some states of the federation with just barely a month to the Christmas and new year festivities.
As observed by Naija News some filling stations were closed in some parts of Lagos State, while some that opened sold fuel for between N170 to N220 per litre in the state.
Naija News gathered that the Deputy National President of the Independent Petroleum Marketers Association of Nigeria (IPMAN), Zarma Mustapha, revealed that the queues would likely continue till December, noting that efforts were on to address the hitches.
Mustapha said, "The on and off queues are due to issues of logistics in terms of supply of the commodity to the retail outlets from either the mother vessel to the private depot owners and from there to independent and major marketers' stations.
"There are a series of logistics issues as regards the supply chain. But the government and stakeholders are engaging in order to get a solution to these issues. However, we believe that this will be addressed, though it may drag beyond December."
However, a major marketer, who pleaded anonymity told Punch that some new charges had been introduced in the downstream oil sector, which had given rise to a hike in the ex-depot price of petrol.
The marketer said all these concerns could further make the current fuel queues to linger beyond December.
The source advanced that "Recently, there have been a lot of charges that marketers pay. There are some charges that the NNPC adds to the pump price, but recently we were told to be prepared to bear freight charges and others.
"Also, pipeline charges that used to be 50 kobo before, are now N1 per litre. Now, these charges force depot owners to increase their ex-depot rates as against the one proposed by the NNPC.
"These and more concerns have led to the crisis in the downstream sector and it may stretch till December or even beyond if nothing tangible is done to address the challenges.
"Nobody cares about how much you sell now. That is why you cannot see the NNPC ex-depot prices to be the same in all the depots.
"There are some changes in rates now, which the NNPC cannot accommodate and they have to push it to marketers to absorb. This is why you see people sell at different rates."
Meanwhile, Naija News also gathered that some IPMAN members have complained that NNPCL has refused to supply them with products, so they were buying from third parties at prices as high as N205 per litre, and with transportation of N13, making N218 landing cost per litre of the product.
The situation has caused ununiformed prices of fuel, as the product sold for between N175 and N220 in many of the filling stations along the Apapa-Oshodi Expressway, while it was sold between N210 and N220 in many parts of Ogun State, especially in Abeokuta, Mowe, Ibafo and Sango.
The pump price of petrol ranged between N220 and N259 per litre on Friday in Edo State, while the NNPC fuel stations were selling at N179 per litre.
In many parts of Ondo State, Punch reported that fuel was sold between N200 and N230 per litre by independent marketers, while major marketers sold the product for N180 per litre.
Long queues were reported to have been sighted at filling stations of major marketers in Ado Ekiti, the capital of Ekiti State due to a shortage of fuel.
At the NNPCL filling station along Ado-Iworoko Road and Matrix on Adebayo Street, where the product was sold at N179 per litre and N180 per litre respectively, there were long queues of vehicles.
But at the stations of the independent marketers, there were no queues, but the product sold for between N210 and N230 per litre.
In Ilorin, the Kwara State capital, petrol was being sold at between N220 and N240 per litre at filling stations on Thursday and Friday, while in Kogi State sold for between N230 and N250 for the past month.
Petrol was sold between N253 and N270 per litre in many filling stations in Katsina State, while it sold for between N260 and N270 per litre in Sokoto State.