What Buhari Said At APC Presidential Campaign Flag-off In Jos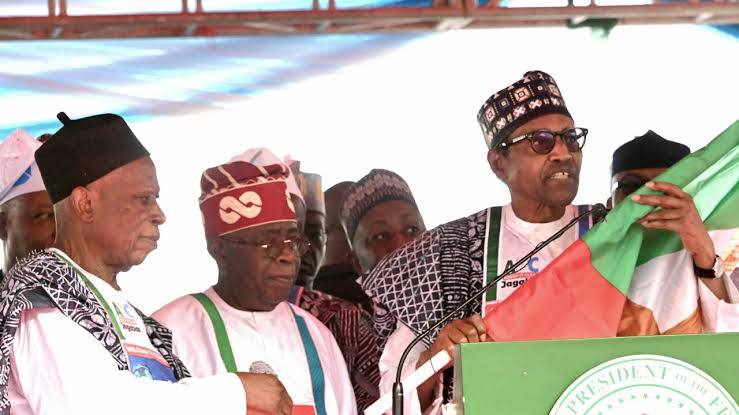 President Muhammadu Buhari has said the presidential candidate of the All Progressives Congress (APC), Bola Tinubu, is the best person to succeed him in 2023.
The Nigerian leader stated this on Tuesday at the flag-off the APC Presidentail campaign held at the Rwang Pam Township Stadium in Jos, the Plateau State capital.
Buhari said the country needed a man like Tinubu who can build on his achievements and sustain his legacy, saying that he would be at the forefront of the campaign because of his belief in the party
The President said it was only the APC that could lead the country to a new level of development and historic purpose, adding that the goal would be achieved by electing Tinubu as President in 2023.
He, however, called on the party faithful to campaign on issues and the abilities of Tinubu and his running mate, Kashim Shettima.
After his speech, President Buhari symbolically handed over the APC flag to the presidential candidate.
In his remark, Tinubu said that Buhari performed well in the areas of security, infrastructure and laid solid foundation for development of agriculture and other sectors.
He said: "We were insecure, we turned to retired Gen. Muhammadu Buhari and he embarked on rehabilitation, recovery and redemption of Nigeria.
"He started by destroying the terrorists' flags systematically, tactically and frontally and today there are no flags of strange military colours in any of our local governments in Nigeria.
"Nigeria was sinking but Buhari pulled us out and said that Nigeria will not sink in his time and in the time of the APC."