They Would Beat Me Simply Because I Was Fela's Son – Femi Kuti Speaks On Growing Years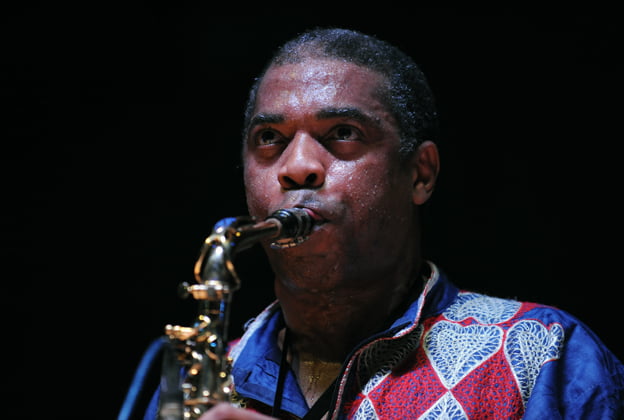 Legendary singer, Femi Kuti has opened up on some of the travails he faced while growing up.
Femi, who is the first son of Afrobeat pioneer Fela Kuti, explained in a recent interview that some of his teachers hated him for being the son of the Afrobeat star.
The saxophonist said that while he expected to be treated fairly, some teachers would pass aggression on to him because of their dislike for Fela.
Femi explained that being in school was quite depressing for him as teachers who had a vendetta against his father would beat him more simply because he was a blood relation of Fela.
He said, "School was a very depressing time for me because you had the teachers that liked him and teachers that didn't like him so if I get into trouble with the teachers that didn't like Fela they would beat me more because they don't like my father.
"I later got to know they had a vendetta against my father. They have rich children in the same school and they didn't like me because I was Fela's son, they say your father smokes Indian hemp and I also tell them their father is a slave."
Ooni Alleged Lover Speaks
The Yeye Bewaji of Itori, an alleged lover of the Ooni of Ife, Oba Ogunwusi Adeyeye has made a public announcement.
Naija News recalls that there have being speculations that the Yeye who was identified as Abike Jagaban might be the next queen of Ife after she stepped out in style with the Ooni's staff.
In what seems to be a reaction to the controversy, Abike sent a message to the public.
She insisted that she would like her name to remain as the Yeye Bewaji of Itori Land until farther notice.
She wrote, "As of this day my name remains Toluwatope Olowogaba the Yeye Bewaji of Itori Land, aka QAJ the founder of theNo Cyberbullying Team, the founder of Abike Jagaban Helping Hands Foundation, the CEO of AJ Trendy Z Store the CEO Of Abike Jagaban Events n Parties and Queen of Lovers of Cyber Freedom and Peace and I would like to be addressed with the above names and no other until further notice. Love all the way."