Lets Invite EFCC To Investigate APC's Account – Party Chieftains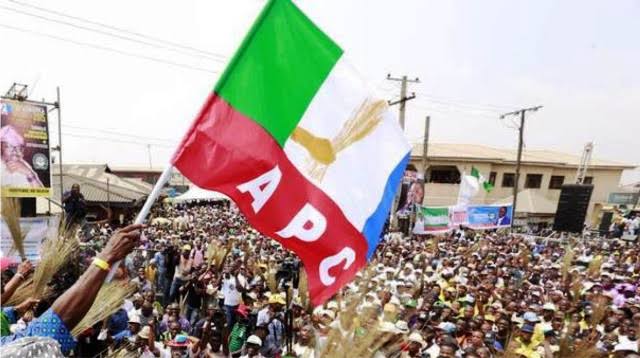 Some party chieftains of the ruling All Progressives Congress (APC) have come out to say that the Economic and Financial Crimes Commission (EFCC), should be invited to investigate the party's account.
This development follows protests by APC workers over non-payment of their salaries under the current leadership of the APC's National Chairman, Abdullahi Adamu.
Their protest was a sequel to the dismissal of six departmental directors, identified as Anietie Offong (Welfare), Bartholomew Ugwoke (Research), Abubakar Suleiman (Finance), Dr Suleiman Abubakar (Administration), Salisu Dambatta (Publicity) and Dare Oketade, (Head of Legal) at the national secretariat by Adamu, who said it was part of moves to sanitise the party from systematic corruption.
Naija News, however, reports that these concerned party chieftains who were worried about the fact that the APC has gotten to a level where staff are being owed salaries noted that the party has never experienced such.
The party chieftains said the EFCC should be invited to investigate the APC's account to ascertain why they can't pay staff, adding that it is sad that despite all the money the party made, it has failed to pay its staff.
A former Deputy National Publicity Secretary of the party, Yekini Nabena, who was disappointed about the party's refusal to pay staff salaries, noted that it was time the anti-corruption agencies were invited to probe the party's account.
Nabena said "It is sad to hear that the party and those placed in charge of its operations cannot pay salary, especially after the N5 million, N10 million and N20 million people raised to be part of the conventions held this year. It is very sad.
"And this is the peak that the ruling party has made so much money compared to any other time. If there is anything like that, the EFCC should be invited to investigate the party. There must be corruption going on there.
"If it has got to the stage where salaries are not being paid, the EFCC and other anti-graft outfits should investigate the party. There is something definitely wrong somewhere," he added.
Meanwhile, a former Director of Administration of the party, Abubakar Suleiman, in a Sunday Punch report accused the Adamu-led National Working Committee (NWC) of failing to disclose their 'sin' before forcing dismissing the directors.
Suleiman, who explained Adamu's claim of N7.5 billion corruption allegation said "Adamu lied. Nothing went wrong. The secretariat was in good hands. What necessitated his decision was not known to us or anybody. It was an agendum. Nobody was indicted. I am sure you must have heard the accounts of other directors too. Nothing went wrong anywhere.
"As directors, we didn't approve anything. Our job was to implement. If the party feels otherwise, let the EFCC or other anti-corruption body be invited to investigate the APC accounts, including the secret ones being operated by the party leadership."