UK Prime Minister, Sunak Gives Appointment To Nigerian, Kemi Badenoch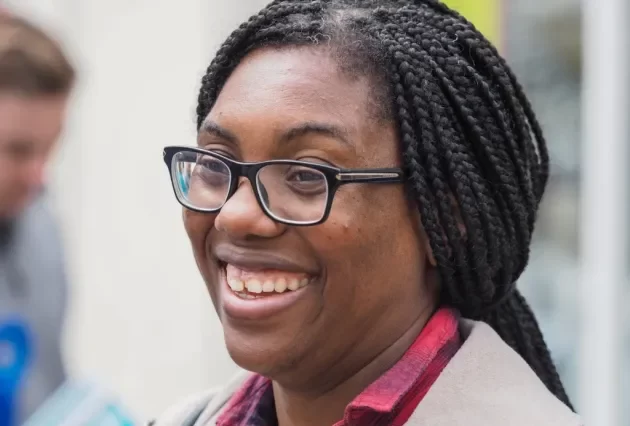 United Kingdom (UK) Prime Minister, Rishi Sunak has appointed Nigerian-born British lawmaker, Kemi Badenoch as trade minister.
Naija News reports that Sunak reappointed the 42-year-old for the position on Tuesday and as well gave her the role of equalities minister.
Badenoch had wanted to become the next UK Prime Minister but was disqualified from the race months ago. She had run an excellent campaign and was hailed for her leadership and honest politics which helped her perform considerably better than anticipated.
However, following her disqualification, Sunak secured the highest votes with 118 on a poll, followed by Penny Mordaunt with 92 votes and the foreign secretary, Liz Truss, who received 86 on the fourth ballot.
Naija News reports that Badenoch had previously held the position of equalities minister during Boris Johnson's premiership.
The former software engineer had worked in the banking sector and later as a director of the Spectator magazine before being elected to the London Assembly.
She entered the Commons as MP for Saffron Walden in 2017 and lists her interests as including engineering and technology, social mobility and integration.
President Muhammadu Buhari and the former Secretary-General of the United Nations (UN), Ban Ki-Moon on Tuesday met on the sidelines of the 2022 World Bio Summit.
The Summit, which has the theme: 'The Future of Vaccine and Bio-Health', is jointly been hosted by the South Korean Government and the World Health Organisation (WHO), Naija News reports.
During the meeting with the Chairman of Ban Ki-Moon Foundation for Better Future, Buhari said Nigeria was already experiencing the negative fallout of climate change.
He stated the impact of climate change has led to flooding in different parts of the country, including encroaching desertification and drought in the Northern part of the nation.
In a statement by its spokesman, Femi Adesina, President Buhari expressed happiness with the cooperation existing between Nigeria and the Republic of Korea, especially in the area of energy supply, citing gas exports to the Asian country.
The Nigerian leader asserted that education is one of the key investments in addressing unemployment and underdevelopment, adding that health challenges must be equally addressed.
On his part, Ki-Moon sympathized with Buhari over the flooding while calling for more investment to improve education, avert environmental degradation and prevent diseases in a bid to meet the core Sustainable Development Goals (SDGs).
He also thanked Buhari for attending the World Bio Summit, adding that his presence would highlight the importance of global action and cooperation in the development of vaccines and technology to meet the huge threat and challenges of pandemics.