Floods Disaster: 50 Killed, 172,000 Farmlands Swept In Adamawa Communities – Official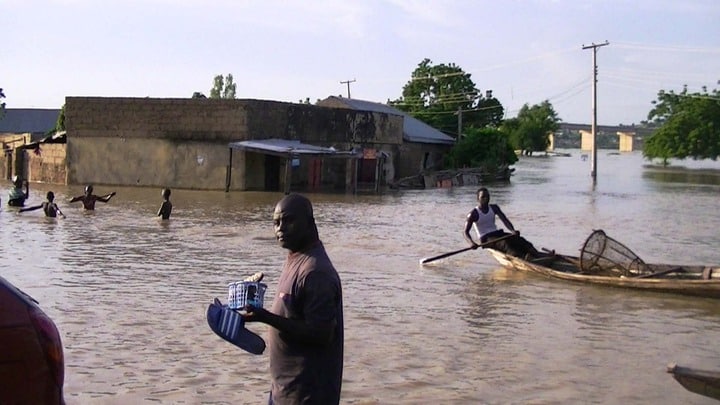 The executive secretary of Adamawa Emergency Management Agency (ADSEMA), Malam Suleiman Mohammed, has lamented the wrecking of residential houses, farmlands, and businesses and the loss of lives caused by floods in local communities in Adamawa State recently.
According to the official, no fewer than fifty people have been killed in recent floods across eleven communities in Adamawa.
Mohammed who spoke with journalists in Yola, the state capital on Friday, disclosed that at least seventy-one other people have suffered degrees of injuries from the incidents.
The citizen blamed the flooding on the release of water from the Lagdo Dam in neighbouring Cameroon. Mohammed said also that the flood destroyed 172,000 farmlands and food crops worth millions of naira.
"Some of the affected local government areas are Numan, Shelleng, Yola South, Yola North, Demsa, Mayo Belwa and Michika,'' the official told newsmen noting that the agency had provided clothes, foodstuffs, drugs, mosquito nets, blankets and buckets for victims to assuage their suffering.
"The items were donated by the state government, the Federal Government and by other donors,'' he said.
Mohammed also disclosed that ADSEMA would collaborate with the National Emergency Management Agency to move affected communities to safer areas.
He added: "We will continue to sensitise the communities about the dangers of living in flood-prone areas".
Commuters and government officials were thrown into confusion on Thursday after a young lady whose identity is yet to be made public reportedly jumped into a river in Osun State.
Naija News learnt that the teenager was on a commercial motorcycle passing through Gbongan-Osogbo road before she suddenly alighted from the bike to receive a call.
An eyewitness, Tosin Olaleye who narrated the incident to newsmen said the young lady after ending the call on her cell phone immediately jumped into the heavily flowing water at the Gbodofon Bridge in Osogbo.
The incident according to the eyewitness, happened at about 4:00 p.m on Thursday, October 20, 2022. "We saw her talking on the phone and when she alighted, she dropped the phone into her purse.
"She dropped her bag and the next thing we noticed was that she jumped straight into the river.
"We were all shocked. Before anybody could do anything, she was already in the river and we did not see any trace of her again," Daily Post quoted Olaleye as saying.
According to her, she and other passersby immediately raised an alarm and contacted the Federal Fire Service who also arrived at the scene within minutes.
Unfortunately according to her, there was little they could do as several minutes of rescue efforts proved abortive.