Omokri Reacts To Wike's Moves, Speaks On What PDP Should Do Before 2023 Election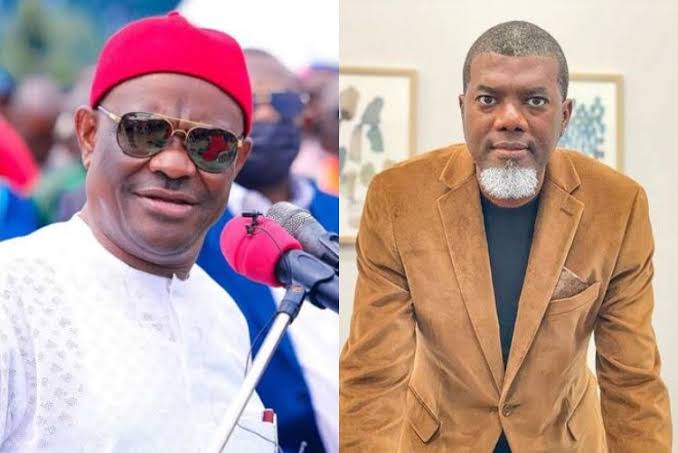 Former presidential aide, Reno Omokri, has reacted to the provocative statements and moves by Rivers State Governor Nyesom Wike ahead of the 2023 general elections.
Naija News understands that Wike who is of the Peoples Democratic Party (PDP) has been making some moves recently that could be termed as anti-party activity, but the Rivers State Governor still gets away without any sanction from the party leadership.
Recently, Wike publicly endorsed the Governor of Lagos State, Babajide Sanwo-Olu for another term in office.
The PDP chieftain who was in Lagos on Tuesday shunned the PDP gubernatorial candidate in the state, Olajide Adeniran, also known as Jandor, saying that contesting against Sanwo-Olu for the state's governorship seat is nothing but a waste of time.
According to him, the Lagos Governor had raised the standard of governance with the quality of projects delivered across Lagos.
Wike's recent declaration among his many previous provocative actions against the leadership of the PDP, its national chairman, Iyorchia Ayu and the party presidential candidate, Atiku Abubakar, has received attention across boards ahead of the 2023 general elections.
However, in a Twitter post on Wednesday morning, Omokri who is a staunch supporter of Atiku said that no matter how provocative the Rivers State Governor becomes at this time, PDP will not fire back at him.
Omokri who boasts that PDP will reclaim power in 2023 expressed hope that Wike settle his rift with the leadership of the party. He, however, said the party will only endure and not fire back even if all efforts to pacify the Rivers State Governor prove abortive.
The controversial socio-political activist tweeted: "No matter how much Governor Wike provokes the PDP, the PDP ought not to react. We are obviously going to win the election. Hopefully, we can settle with him before February 25, 2023. But if that proves difficult, we should just endure and never give fire for fire!"