Boko Haram Killed 100,000 In Nigeria, Displaced Over 2 Million – Irabor Confirms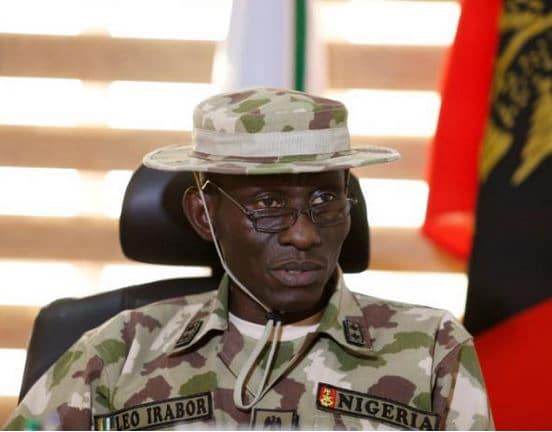 The Chief of Defence Staff, General Lucky Irabor, on Tuesday, said that Nigeria has lost no fewer than one hundred thousand lives to incessant attacks by Boko Haram terrorists since the dreaded group was formed.
According to him, the disturbing tension created by the terrorists has resulted in the displacement of over two million others.
Naija News reports that Irabor disclosed this in Abuja at the closing ceremony of the 2022 Ministerial Performance Review Retreat yesterday.
While boasting that the terrorists have now been restricted to a corner of the country, the Defence Chief said damages caused by the insurgency in Nigeria are estimated to be $9 billion (N3.24 trillion).
Irabor acknowledged that the terrorists have made some inroads into the North West.
He explained further that the Armed Forces had received N2.5 trillion in seven years in budgetary provisions and had been able to tremendously increased internal security operations.
Irabor, however, regretted that the amount received was just 35 per cent of the Armed Forces' requirements and below 0.5 per cent of the Gross Domestic Product (GDP).
On the Armed Forces operations in the Niger Delta, he said militancy had transmuted to crude oil theft.
Zamfara State government led by Governor Bello Matawalle on Tuesday confirmed the arrest of no fewer than eighty persons over their alleged involvement in banditry activity.
The suspects, including women, were nabbed by security agencies who were combing the state for criminal elements, Naija News reports.
Giving details about the arrest, Chairman of the Committee on Prosecution of Banditry and Related Offences, Abdullahi Shinkafi, while addressing the media on Tuesday, said the suspects were arrested in connection with terror groups.
Some of them, according to Shinkafi, were found to be informants, and suppliers of food, drug, military camouflage and police uniforms to the terrorists while some were directly involved in banditry, kidnapping for ransom and illegal possession of firearms.
Shinkafi disclosed further that security agencies were already investigating their level of participation in criminal activities in the state and its neighbourhood.
"Others have already been charged to court to face charges of their involvement", Shinkafi said.
He explained further that the resurgence of banditry and kidnapping was due to the bombardment of camps by the Nigerian Air Force (NAF).