2023 Elections: I Am Not A Labour Party Member – Aisha Yesufu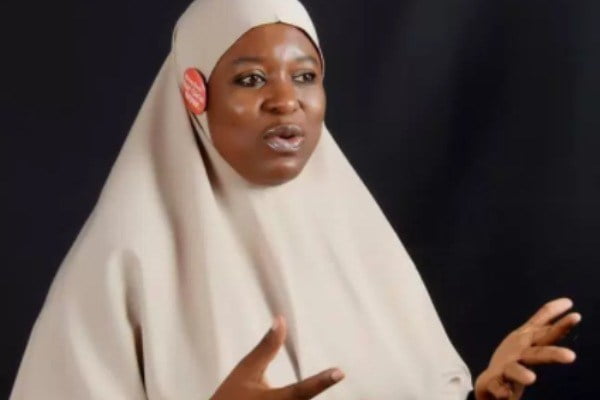 Renowned Nigerian socio-political activist, Aisha Yesufu, declared on Sunday that she is not a card-carrying member of the Labour Party (LP).
Yesufu said this in reaction to claims that she was listed among over one thousand presidential campaign council members for the third force movement ahead of the 2023 general elections.
Naija News understands that the activist is a staunch supporter of the former Governor of Anambra, Peter Obi, who is the presidential flag-bearer of the LP.
Yesufu has in several social media posts shown her support for the 'Obidients' Movement, using every opportunity on social platforms to campaign for Obi's candidacy.
Reacting to reports that she was named in a 1,234 campaign council members' list released last week, Yesufu said the claims were untrue, insisting that she is not holding any political appointment.
Yesufu tweeted: "When was I made a Labour party PCC member? I see how that is being thrown all around.
"I am not a Labour Party member neither am I on their list. I have made it categorically clear I am a citizen. I am not holding any position nor on any list. I don't do appointments."
After 24 years of ruling Nigeria, the Peoples Democratic Party (PDP) and the incumbent government of the All Progressives Congress (APC), has nothing to show for it, said Vice Presidential candidate of the Labour Party (LP), Sen. Yusuf Datti Baba-Ahmed.
Naija News reports that Datti made the assertion on Sunday, October 16, shortly after a town-hall meeting with party stakeholders and supporters in Minna, Niger State capital.
The politician charged citizens of the state and Nigerians at large to not listen to the 'deceit' of the opposition parties who according to him, use religion and tribal sentiments to cause hatred amongst the electorates.
Datti noted that if the previous and incumbent government had done well, Nigeria will not be in this devastating state. He lamented the rising insecurity, corruption as well as other challenges that have bedevilled the country under the APC-leg administration.
"If the APC and the PDP are better after 24 years combined of governance, why are we still witnessing the challenges we are facing? Nigerians, it's time to take back our country," the LP VP candidate noted.
Reacting to some Presidential candidates and religious leaders in Nigeria who are allegedly telling their members to vote along religious and tribal divides, Datti urged Nigerians to vote for Peter Obi and himself, ignoring such persons to save the country from disintegration.
"I urge you to ignore such people and vote for credibility, competence, character, equity, fairness and justice to save Nigeria from disintegration," Datti reiterated.