Igbo Presidency Will Be A Reality In Nigeria – Says Buhari's Aide, Adesina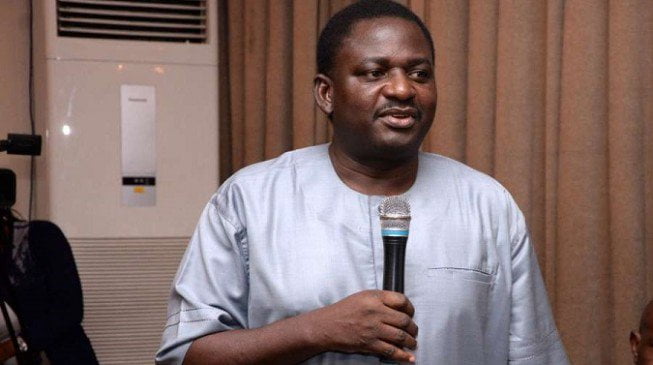 Despite being a member of the All Progressives Congress (APC) selling a Yoruba man as the best candidate to become Nigeria's next president in 2023, President Muhammadu Buhari's Special Adviser on Media and Publicity, Femi Adesina expressed confidence that an Igbo presidency is achievable in Nigeria.
The top presidential aide, while speaking on Wednesday at the State House, recalled the times he used to write in favour of the Igbos over the leadership of Nigeria.
Naija News reports that Adesina reflected on the Igbo Presidency yesterday when he received a delegation of Igbo Friends and Onyebuchi Chris Ifediora (OCI) Foundation.
A delegation of the organization had visited the presidential aide to felicitate with him on the conferment of the National Honour of the Officer of the Order of the Niger (OON) by the President.
Adesina noted in his remark that he was always delighted to receive visitors from different parts of the country.
He said: "It shows the brotherhood in us; Nigeria is one country, indivisible. You have demonstrated it by coming to congratulate me."
The presidential spokesperson said he has two chieftaincy titles from two states – Nwanne di Namba from Mmaku in Enugu, and Ugomba of Isieketa in Abia.
"At the Sun Newspapers, I used to write about the Southeast and the need for a President of Igbo extraction and what the people of the area needed to do to achieve it.
"I know that it would be a reality in this country", Adesina said.
Details emerged on Wednesday revealing why Mrs Fati Attahiru, wife of the late Chief of Army Staff, Lieutenant General Ibrahim Attahiru, and his family, boycotted the National Awards ceremony in Abuja on Tuesday.
It was gathered that the Muhammadu Buhari-led government failed to invite them to receive the national honours award on Attahiru's behalf.
Naija News reports that the late COAS was among the 13 persons listed to be honoured posthumously by the President.
Recall that Attahiru died alongside 10 other senior military officers in the Nigerian Air Force's Beechcraft aircraft fatal crash in Kaduna on May 21, 2021.
According to sources, neither Attahiru's widow nor any member of his family got an invitation or an official notification to attend the ceremony for such an honour.
A family source told The PUNCH, "Up till this moment (Tuesday), the wife of the late Chief of Army Staff, Lieutenant General Attahiru, was yet to receive an invitation for the award ceremony or any official notification that her husband would be conferred with a posthumous honour.
"The family only got to know about him being on the awardees list through social media. That was why she or any member of the family didn't show up at the event. We, however, appreciate the President for considering the late Attahiru worthy of an honour as revered as this."