Atiku: "It's Very Selfish, Wrong, And Bad For Politics" – PDP Chieftain Knocks Wike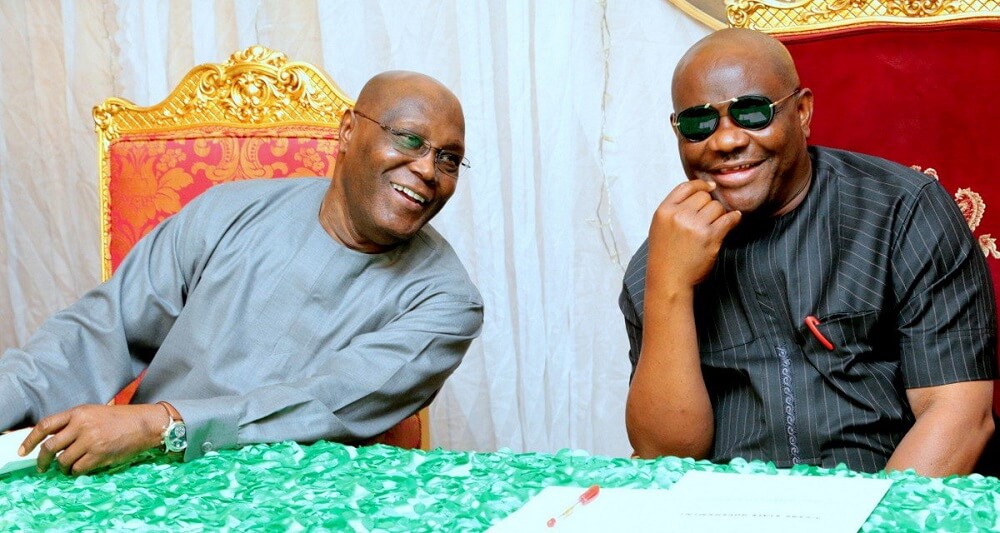 A former Majority Leader of the Edo State House of Assembly, Matthew Iduoriyekemwen has knocked the decision of the Rivers State Governor, Nyesom Wike not to support the campaigns of the Peoples Democratic Party (PDP) presidential candidate, Atiku Abubakar.
Iduoriyekemwen in his submission stated that Wike's action is unbecoming of a leader and politician of his calibre, arguing that the Rivers Governor had made his stand known and should have left the stage when the ovation was loudest.
The Edo State politician added that the PDP has always given Wike the platform to actualize his political ambitions and the first time a ticket he wants would go to another person, the Governor wants to tear the party apart.
Wike's Position
Wike and his loyalists including some state governors had vowed not to participate in Atiku's presidential campaigns except Iyorchia Ayu resigns as the PDP national chairman.
They argued that Atiku's emergence as the PDP flagbearer has put the major leadership positions in the north which negates the principle of justice and fairness.
Wike Is Selfish
However, asked about the development and how it would affect the fortunes of the PDP in 2023, Iduoriyekemwen during an interview with Punch blamed Wike for the crisis which he described as unnecessary.
He questioned Wike's action saying it was probably because he lost the PDP presidential ticket.
He said: "It is unfortunate that Governor Wike has allowed himself to become someone about whom anyone in the country can simply talk. I can liken this situation to not knowing that it is good to leave the stage when the ovation is loudest. People have argued that he has spent so much to keep the party together; did he bring the money from his house?
"This was a man who became a local government chairman, chief of staff to former River State Governor, Rotimi Amaechi, minister of state for education, supervising minister of education, and a governor on the platform of the PDP. The first time he has failed to get something, he feels that he must bring down the roof. I think it's very selfish, wrong, and bad for politics.
"Some people have been members of the party since 1998 but have yet to realise their dream of becoming a local government chairman, despite remaining members of the party.
"So, when the party has done so much for you, why take this step? Two things contribute to one getting tickets to a party for an elective post.
"First is the belief of the people in you, and second is your personal strategy on how to get the confidence of the people. When it came down to the elements, Atiku showed that he was more politically savvy. On that day, Wike vowed to work with whoever emerged as the party's flag bearer, so what has happened? Is he doing all this because he lost?"